Enter for your chance to win one of 12 Days of Giveaways!
Macaroni Kid South Hills has been working with some AMAZING sponsors (who have donated over $2,100 in prizes 😱) to put together some great gifts for our readers to win each day from Dec. 1-12! Please show our generous sponsors some love by considering them for your holiday needs.
How will this work? December 1-12 we will be giving away a prize a day to a Macaroni Kid South Hills subscriber (subscribe HERE). You will have until 2pm of each day to enter to win (but entries for all 12 days can be submitted in advance effective immediately) and the winner will be pulled that evening. We will announce on our Facebook page when we will be going live to announce the winners each day.
Enter each day by clicking the image that says "Enter Here."
YOU MUST ENTER FOR EACH DAY SEPARATELY!
Winners will be announced on this page, in the newsletter and on social media. You must be a subscriber to win and the winner must claim the prize within 24 hours. The giveaways will be announced daily on the Macaroni Kid South Hills Facebook and Instagram pages with additional ways to earn entries so take time to like and follow them, along with our sponsors listed below so you don't miss out! See complete rules for sweepstakes HERE.
Day 1 - Tuesday, December 1st, 2020 - Advent Calendars

Advent Calendars - Macaroni Kid will be giving away 3 different Advent Calendars to make the month of December more enjoyable :) In addition, Pittsburgh Ballet Theatre will provide all 3 winners with a complimentary educational enhancement for this year's Nutcracker performance and Family Spinner will give each family a Family Spinner.

1st winner will receive The 2020 Collection Wine Advent Calendar (must be 21 or older to win), Nutcracker educational enhancement & Family Spinner ($84.99 value)
2nd winner receives an assorted chocolate and truffles calendar, Nutcracker educational enhancement & Family Spinner ($22.99 value)
3rd winner receives Bee Happy 12 Days of Crafts Advent calendar, Nutcracker educational enhancement & Family Spinner ($27.99 value)

*Winner's must live in the South Hills for delivery or be willing to meet at South Hills Village Mall to pick up this prize.*
You can enter to win HERE and see complete rules HERE.

Day 1 Sponsored by Macaroni Kid, Pittsburgh Ballet Theatre & Family Spinner
Congrats to:
Vikki Kern
Patty37_2000
Karrie Smith
Day 2 - Wednesday, December 2nd, 2020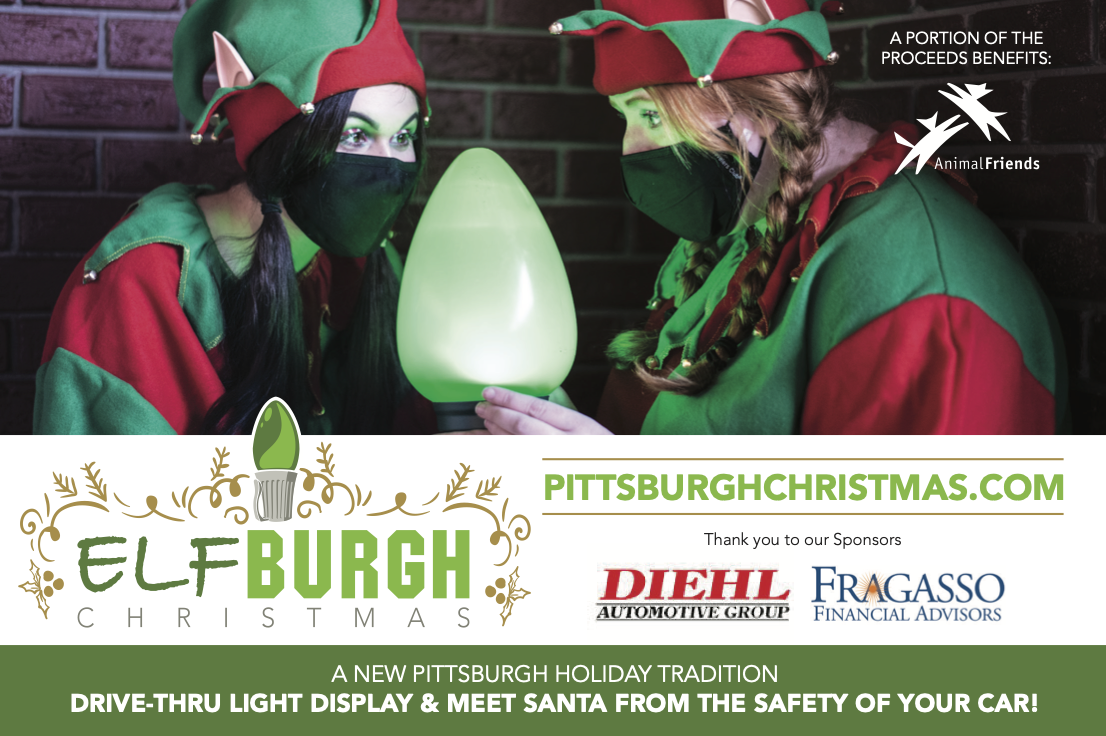 Enter HERE to win an admission ticket to the 'Burghs newest holiday tradition located in South Park. One lucky subscriber will receive a free admission to ELFburgh Christmas and Santa's Treat Bag! In addition, they will win a $25 Gift Card to Eat'n Park, a Family Spinner and 2 Eat'n Park Masks!
Day 2 Sponsored by Elfburgh Christmas and Eat'n Park ($61 value)
Congrats to Amy Shields!
Day 3 - Thursday, December 3rd, 2020 - Home for the Holidays
Since it looks like we'll be spending a lot of time Home for the Holidays, Macaroni Kid has put together two cozy giveaways from the following sponsors: Michael Pohlot - Realtor at Berkshire Hathaway, Pittsburgh Candle Works and Heather Elliot Creations.

Home for the Holidays Bundle 1 Includes:
Pittsburgh Candle Works Holiday 2020 Collection
Decorative Wooden Round by Heather Elliot
Rae Dunn Wooden Merry Christmas Box, Threshold Tree Stocking Stuffer Holder and 2 Fiestaware Mugs sponsored by Michael Pohlot
Total Value $134.98

Home for the Holidays Bundle 2 Includes:

Christian Siriano New York Luxury Faux Fur King Size Bedding
Wooden Wall Plaque
2020 Mini Nutcrackers
3 Bottle Trees
Snowflake Trivets
Total Value $130

***Two winners will be pulled for this and randomly assigned bundle 1 or 2***
Day 3 sponsored by Michael Pohlot, Pittsburgh Candle Works and Heather Elliot Creations
Congrats to Brandy Sauter & Jenn Boone
Day 4 - Friday, December 4th, 2020 - Fun Fore All Family Night
Want to see some Holiday Lights AND Play some mini golf??? Head out to Fun Fore All for a Family Fun Night with Mini Golf & Eat'n Park

Day 4 we are giving away TWO (2) of the following:
Fun Fore All Holiday Lights Mini Golf 4-Pack
Family Spinner
$25 Eat'n Park Gift Card
2 Eat'n Park Masks

Day 4 sponsored by Fun Fore All & Eat'n Park (Value $105)
Congrats to Gina Makizo & Amanda Sickles
Day 5 - Saturday, December 5th 2020 - Mommy Makeover
The holidays are here and I'm sure mom is stressed! Let's pamper her with a Mommy Makeover!

Rodan & Fields Goody Bag
Younique Moodstruck Epic 4D one-step fiber mascara
Color Street Dry Nail Polish (valued at $15)
Topaz Thimble Gift Certificate - good for pant/skirt/dress hem
The Power of Principled Inclusion by Michael G. Sawaya
Day 5 sponsored by: Jessica DiGregory, Kari Nagle, Emily Papa, Topaz Thimble & Macaroni Kid South Hills (Total Value $139)
Congrats to Geri Hayes!
Day 6 - Sunday, December 6th 2020 - Party Like an Ice Princess
It's time to party like a princess, an ice princess that is! This giveaway consists of
Ever After Events - 1 hour party with Elsa
Hot Chocolate Bombs 4-pack
Family Spinner

Day 6 sponsored by Ever After Events, Choco-latte, and Family Spinner ($235 value)
Congrats to Patty Nowak
Day 7 - Monday, December 7th, 2020
Meditate through the Holidays. One of the best purchases I have made recently was a screen-free meditation device that teaches mindfulness through 9 guided audio meditations. There hasn't been a night since we bought it that my kids haven't used it and I think it's such a great little device we have one to giveaway!
Day 7's giveaway is for:
A Zenimal and a replacement color shell.
Day 7 is sponsored by Recovering Mama and Zenimals (Valued at $68.99) My son is not included ;)
Congrats to Kaitlin Debar
Day 8 - Tuesday, December 8th, 2020
Grab the kids and put them in the car - it's time to head out to Urban Air in Robinson for some family fun. Yes, this is for mom's and dad's too!!!

Day 8 we are giving away TWO (2) of the following:
Ultimate Attraction 4 Pack to Urban Air, $25 Eat'n Park gift card, 2 Eat'n Park Masks and a Family Spinner
(valued at $169.96 each)
Day 8 is sponsored by Urban Air and Eat'n Park
Congrats to Kelly Caruso & Dona Reese
Day 9 - Wednesday, December 9th, 2020 - Rest & Relax
Here is a day of pampering that could be for him or her! Today we are giving one luck reader a gift card to Frenchies for a Signature Mani & Pedi and a delicious smelling gift basket filled with candles and wax melts from Rustic Creations.

Day 9 sponsored by Frenchies Modern Nail Care and Rustic Creations ($105 value)
Congrats to Liz Rollert
Day 10 - Thursday, December 10th, 2020
Day 10 - one lucky ready will win their choice of either a FREE Parent's Night Out Enrollment OR enrollment in a Virtual Session of choice from Snapology AND a $25 Eat'n Park Gift Card, Family Spinner and (2) Eat'n Park Masks

Day 10 Sponsored by Snapology & Eat'n Park ($89 value)
Congrats to Jackie Crisman
Day 11 - Friday, December 11th, 2020 - Hand & Stone Massage & Facial
Ahhhhh we are halfway through December and what better thing to do than to take some time to yourself for some self-care? Hand and Stone has donated 3 gift cards to be given to 3 readers that can be redeemed for a 1-hour massage or facial.
*Please note, these can only be redeemed at the McMurray location*
Day 11 sponsored by Hand and Stone Massage and Facial Spa (valued at $79.95 each)
Congrats to Amy Guarino, Kim Orsatti, & Wendy Redinger
Day 12 - Saturday, December 12, 2020 - Kennywood
To end our 12 Days of Giveaways, America's finest traditional amusement park has donated a 4-pack of tickets for the 2021 season!

Day 12 Sponsored by Kennywood Park ($239.96 value)
Congrats to Jordon Scanlon
If your business is not listed and you would like to be included, click the banner below ⤵️


Click HERE for the full Macaroni Kid calendar full of free or low-cost family friendly events!
Do you want to be in the know about everything family in the South Hills of Pittsburgh, PA? Be the first to get the scoop when you SIGN-UP for our free newsletter and calendar today!
Macaroni Kid South Hills is a FREE weekly e-newsletter and website that highlights events and activities for kids and their families in the South Hills of Pittsburgh area and surrounding cities. We often feature local businesses, giveaways, crafts or recipes for kids, and articles about the many challenges we face as parents. This is the go-to source for the latest and most comprehensive information for families that live in these communities.
Always Local, Always Fun, and Family Friendly