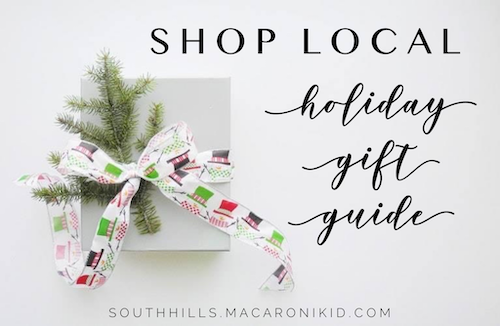 We are so excited to be working on our Macaroni Kid "Shop Local" in the South Hills Holiday Gift Guide to support local businesses like yours and encourage our readers to SHOP LOCAL! Do you have products, services or experiences that would make a great gift this holiday season? If you answered YES, keep reading. This has been an incredibly difficult year for all, so we are doing everything we can to make this an affordable advertising opportunity for everyone with maximum exposure, and we would like to invite your company to be involved! The Macaroni Kid Shop Local Holiday Guide offers great hyper-targeted marketing exposure to the people whom YOU want to see it, parents and grandparents in the South Hills.
---
WHAT WILL YOU GET FOR YOUR ADVERTISING MONEY?
• Up to 8 weeks of exposure with a listing in the Shop Local Holiday Gift Guide under 1 suggested category of your choice (with the option to add additional) and a "Shop Local" shout out on the main page of the guide. You can see the guide here. All listings are placed in order of payment received.
• Exposure to over 5,100 moms/dads/grandparents/families in the South Hills of Pittsburgh area through web/newsletter/social media.
• A sidebar ad of the Holiday Gift Guide advertised and linked to the guide for duration of holiday season.
• A feature article presenting the Shop Local Holiday Gift Guide with your business info in every newsletter until Dec 31 - that's up to 8 weeks of exposure!
• Bi-weekly (or more) social media mentions of the Holiday Gift Guide through Dec 31.
Every week Macaroni Kid South Hills reaches more than 5,100 direct email subscribers (and growing) plus thousands of social media fans. Your business can be listed in the guide which will run from November 12 through December 31 - that's over 7 weeks! Previous Macaroni Kid South Hills Holiday Gift Guides have exceeded 100,000 impressions. Our Fall Guide that most recently ran for 6 weeks (with less advertising) and reached 76,095 impressions.
---
WANT IN?
The Holiday Guide, running for 8 weeks has an ad value of over $2,400 for only $75! All you need to do is fill out this form HERE with your hottest gift idea or bestseller of the season. We will continue to add businesses after the initial publication date as this will run in our newsletter weekly.
We will also be running 12 Days of Giveaways if you are interested in participating in that for additional exposure on social media. Giveaways secured before December 1st will also be featured on our site HERE
Please feel free to contact me at emilyp@macaronikid.com with any questions and to pass this along to other business owners in the South Hills or Pittsburgh area.
If you are a business located outside the South Hills or Pittsburgh and you want to be included, please email emilyp@macaronikid.com prior to placing your listing order.

Happy Holidays!