Halloween is going to look a little different this year, but in this case, different is going to be AMAZING!
Let's pay it forward and flood our community with kindness this Halloween with BOO BASKETS! Macaroni Kid is officially starting off the BOO'ing by distributing 150 BOO Baskets & Bags across the South Hills of Pittsburgh. We can't wait to see how far they reach!
What is a Boo Basket?
It's simply a little Halloween treat that you leave on a neighbors' doorstep to surprise them! There are no rules to how big or small it has to be, just an act of kindness to bring a smile to someone's face. Check out No Tricks, Just Treats: 9 Ideas to Make Your Own Boo Basket for different ideas on what you can put in YOUR boo basket!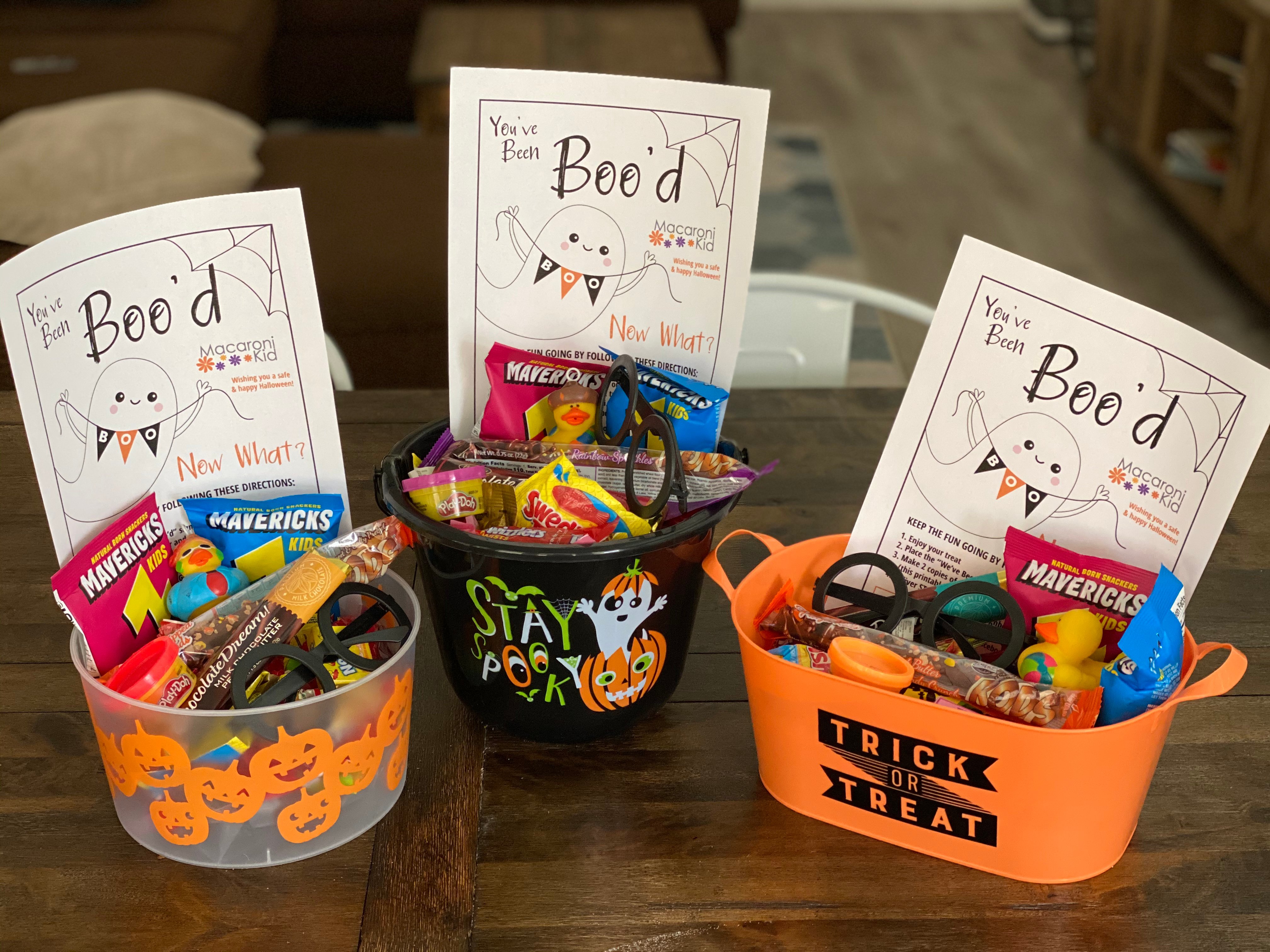 How does it work?
If you received a Boo Basket:
Enjoy your treat and have fun trying to figure out who left it for you


Tape the "We've Been Boo'd" sign on your door or front window


Print out 2 copies of the "You've Been Boo'd" page and the "We've Been Boo'd" page and make 2 Boo Baskets to give to your neighbors or friends (printable below)


Deliver your baskets STEALTHFULLY to 2 neighbors who haven't been Boo'd yet
5. Be sure to use the hashtags #MKBooBag #macaronikidsouthhills #mackidsouthhills and tag us @MKSouthHills (on Facebook), @MacaroniKidSouthHills (on IG), or @PGHMacaroniMama (on Twitter) with photos of your Boo Basket's & Bags for your chance to be featured on our social media!!!

What do 150 BOO Baskets and Bags look like? #MKBooBag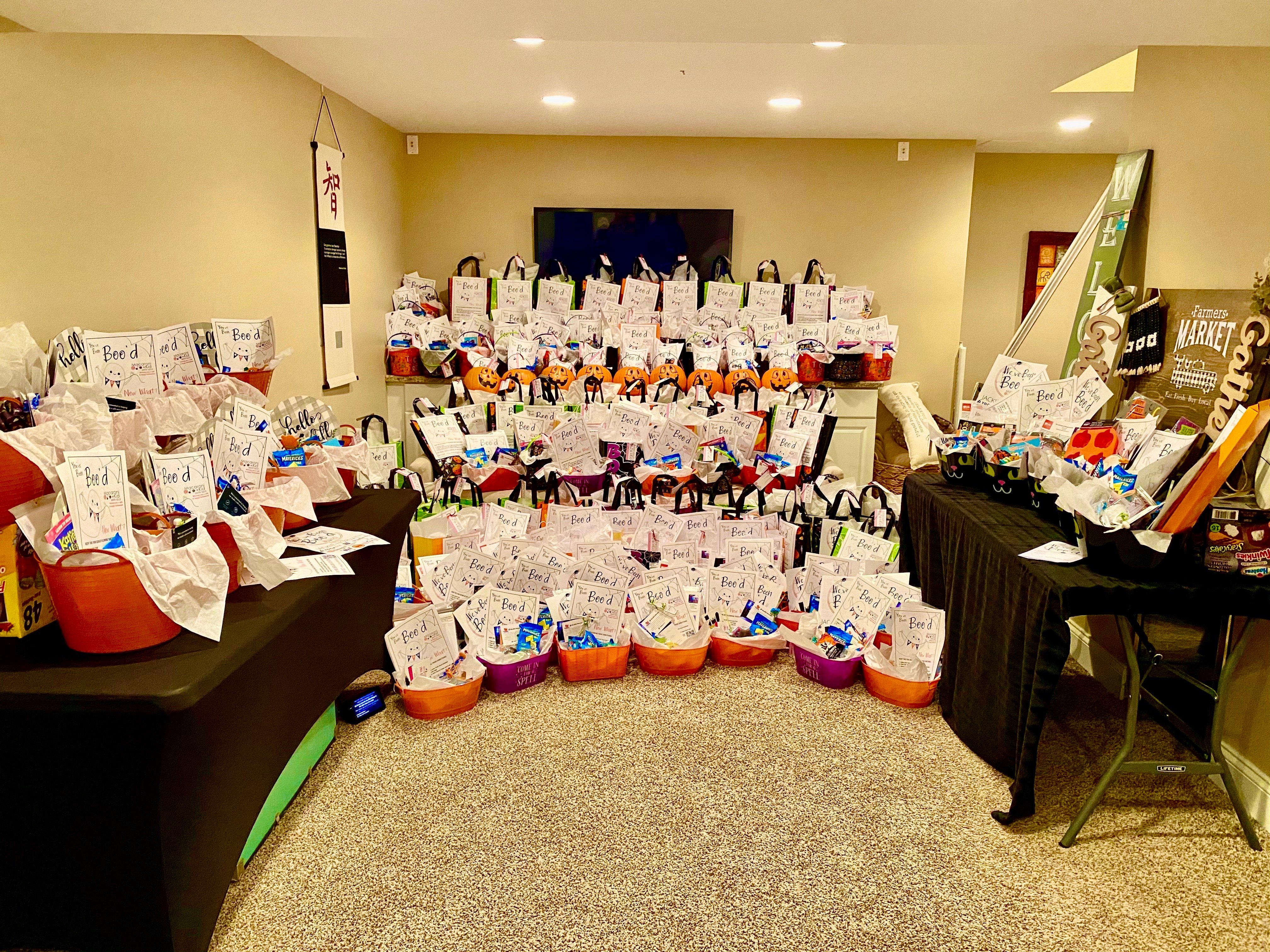 ---
Want a chance to WIN a MEGA Boo Basket from Macaroni Kid South Hills with great prizes donated from local artists?!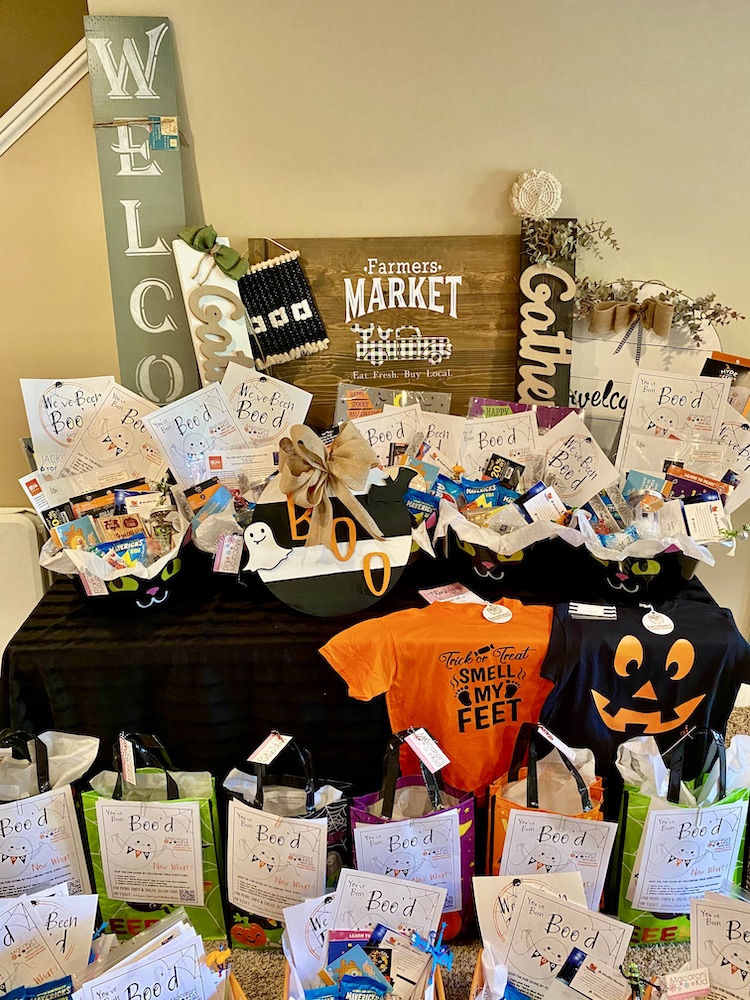 Congrats to our Mega Boo Basket Winners!
Roberta D. - Bridgeville
Jamie D. - Whitehall
Melissa Q. - McMurray
Jackie L. - Brookline
Regina L. - Canonsburg
Didn't win a Boo Basket but still want the goods? Check out our sponsor info below to shop and support local!
---
*You don't have to receive a basket to give one! Start the trend in your neighborhood with the printable below and give out a couple of baskets!*
Printables
Right-click the image and save it to your computer to print at home or download a blank printable HERE.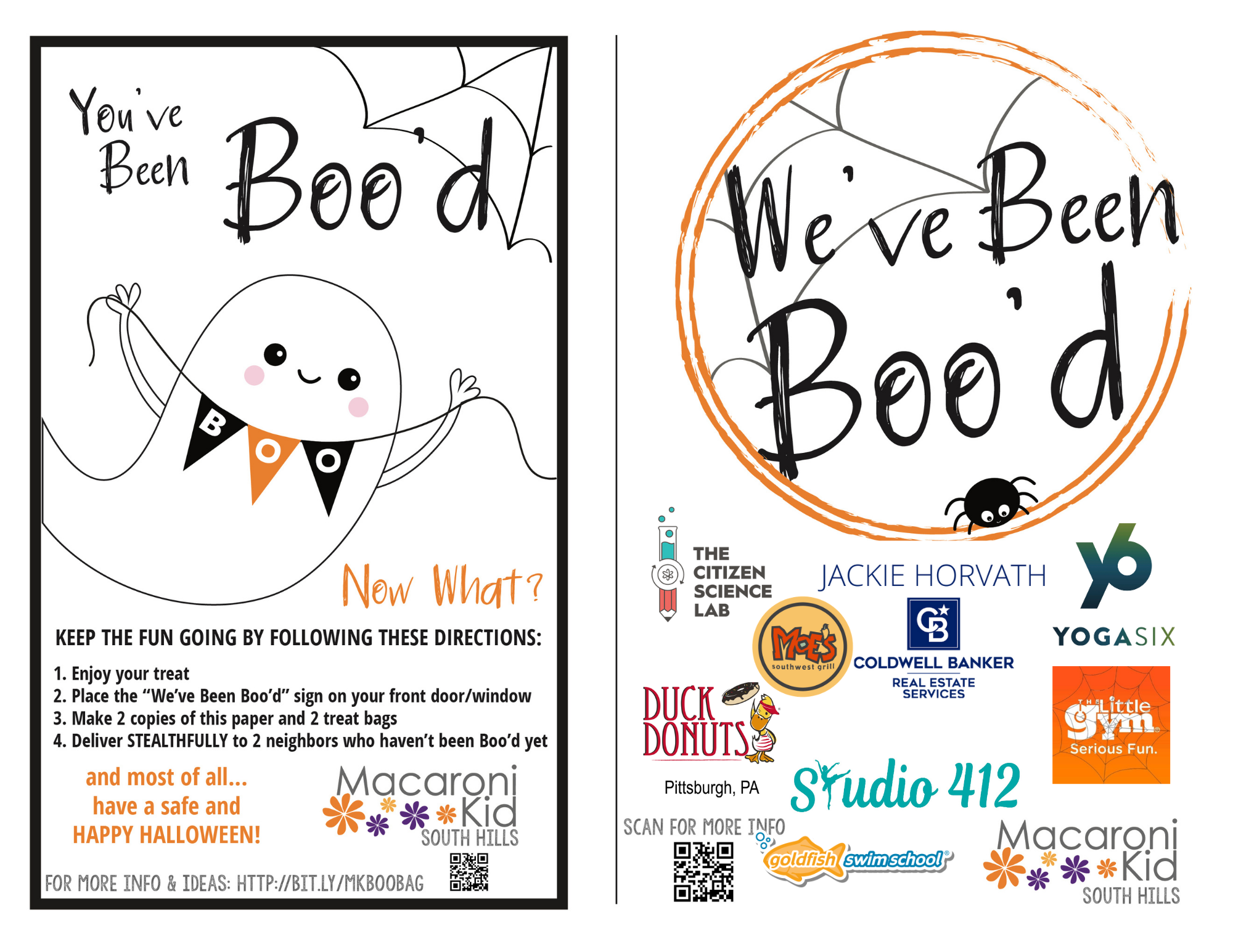 To print a blank PDF copy download here.
---
👻 THANK YOU TO ALL OF OUR SPOOKTACULAR SPONSORS & DONORS!
WE COULD NOT HAVE PULLED THIS TOGETHER WITHOUT YOU!👻 PLEASE SUPPORT OUR SPONSORS AND DONORS BY CHECKING OUT THEIR LINKS!
SPONSORS
---
Thank you to our donors:
Chik-fil-a South Hills
Spirit Halloween
Quilter's Depot - fabric for masks
Dr. Regina Leckie - donating time and talent to make masks
Kati - Topaz Thimble
Surbrina Sarver - Strikingly Cute Handmades
Kaitlin Perrine - Knotty Mama Studios
Tammie Eddy - Teddy's Crafts
Heather Elliot - Heather Elliot Creations
Courtney Nobile - Cece's Custom Creations
---
🌸 Macaroni Kid South Hills is a free weekly e-newsletter and website that highlights all the great things for kids and their families to do in the community. Plus, you can find fun activities, family-focused businesses, family-tested product - place- and - business reviews, recipes, crafts, and SO much more!
Get a FREE event calendar for the South Hills of PA region full of festivals, fairs, activities, events and more! Sign up by clicking HERE!
Is your business, organization, group or church holding a family-friendly event that is not listed? Submit the event by CLICKING HERE! Thank you!
💗 Share the love! 💗
Tell your friends & be sure to let everyone you know you heard about it from Macaroni Kid South Hills. Make sure you are subscribed to our FREE weekly newsletter and follow us on Facebook and Instagram!