Just Breathe!
Himalayan Salt is naturally antibacterial, antifungal and antibacterial. Unlike any other in the region, our cave contains 16 tons of Himalayan salt and custom-built. The space is serene, meditative and perfect for physical, emotional, and spiritual healing. For those with respiratory conditions or stress and anxiety, the results are often immediate!
Our crystal boutique features more than 200 types of crystals -- Amethyst, Rose Quartz, Labradorite, Lapis, Moonstone to name just a few. Check out our selection of crystal kits, bracelets, spheres, pyramids, thumb stones, and towers. Our jewelry is made of authentic gems and set in 925 silver.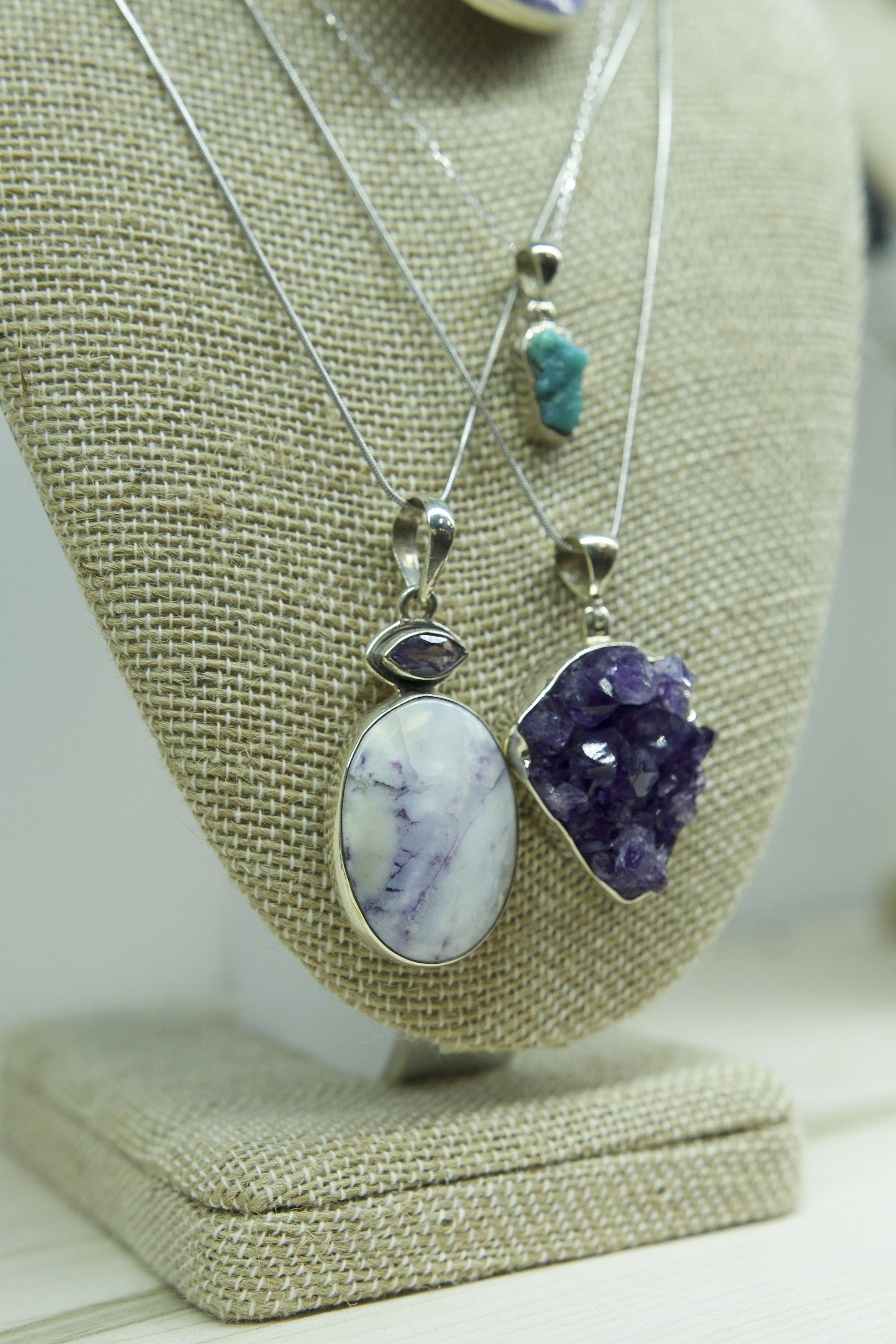 ---
Schedule a forty-five-minute salt cave session, join a monthly class, or book a personal appointment by clicking on the links below:
For Salt Cave Session - 45 fabulous minutes! BOOK HERE!
Monthly Classes - includes Restorative Yoga, Guided Meditations, and crystal bowl sound healing. Check HERE for more info!
Personal Appointments - Choose Massage, Reiki or Energy Healing BOOK HERE!
| | | |
| --- | --- | --- |
| | | What to expect when you enter the salt cave... There is no change of clothes, wear something comfy and be sure to wear (or bring) a pair of socks. Personal belongings including cell phones are stored in the boutique (or your car) The salt cave is dimly lit and a comfortable 70 degrees. Upon entering, you will be guided to a zero-gravity chair and offered a blanket. Simply lay back, close those eyes, hear the meditative music and just breathe! |
Business Hours:
Tuesday 10-7
Wednesday 10-5
Thursday 10-7
Friday 10-5
Saturday 10-5
Sunday 11-4
Business Review
| | | |
| --- | --- | --- |
| | | The sound meditation was so wonderful and relaxing, and beyond my expectations. I have been in salt rooms, but the cave had a completely different vibe. Beautiful and so amazing. And the store had so many awesome crystals and jewelry! Everyone was really nice! My favorite place! |
| | | |
| --- | --- | --- |
| | | The salt cave experience was amazingly relaxing. Shopping in the boutique was both fun and educational. Great selection and knowledgeable staff! |
| | | |
| --- | --- | --- |
| | | Macaroni KID South Hills has found many hours of personal self-care at Salt of the Earth! If you haven't been here yet, schedule yourself a salt cave session and plan to purchase a tub of Salt of the Earth's signature scent body butter before you walk out the door. If meditation seems intimidating for you, consider booking a sound bath session, guided meditation or massage service. |