The Wexford Acting Studio is committed to instructing beginning, intermediate, and veteran performers in a trusting, safe, studio environment. Building on individual strengths and skill levels, the actor will grow and flourish under the careful instruction of theatre professionals. Our classes are rooted in "The Method" and its techniques as set forth by the great Russian actor and teacher, Stanislavski. (For a brief explanation of the Stanislavski Technique, click here).
Want to see for yourself what our classes are all about? Prospective students are welcome to join in the fun by attending a sample session; just contact us in advance and we will be happy to make arrangements!
Note to Parents: Having the freedom to explore, create, and experiment within the classroom setting is vital to students of the theater. Because the work an actor does in class is not meant to be a performance or even a rehearsal, our classes our closed to observers. However, parents are welcome to attend one of several open sessions held each year, where they can view a showcase of our students' work as an invited guest!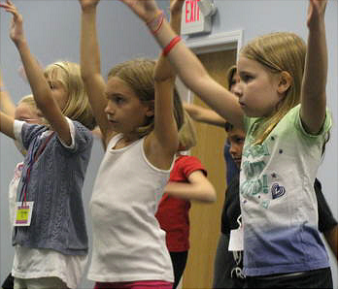 Level One
Creative Play: Acting Basics
Ages 6 through 9
Thursdays 4:45-5:45pm
Using play creatively to tell a story
Performance playing
Communication with the audience
Diction and projection
Introduction to character development
Expression through movement and the voice
Master classes
Improv games for focus, imagination, listening, observation, cooperation, and communication
Level Two
Discovering Character for Performance: Intermediate Acting
Ages 10 through 12
Thursdays 5:45-6:45pm
Thursdays 6:45-7:45pm
Saturdays 9:00-10:00am (if needed)
Developing character by integrating mind, body, voice, and imagination
Effective mime
Introduction to the Stanislavski Technique
Emotional and sense memory and their application
Bringing truth to character
Diction and projection
Staying in the moment
Improv games
Thinking on your feet
Simple scene work
Master classes
Level Three
Character Development and Performance: Intermediate to Advanced Acting
Teenagers and Adults
Thursdays 7:45-9:15pm
Saturdays 10:00-11:30am
Saturdays 11:30-1:00pm (if needed)
Focus on character work
Playing the "opposite"
Doing/telling vs. being
Exploration of both primary Stanislavski texts, history & theory
Outward & inward approaches
Representation vs. presentational performance
Mask work
Scene work
Dialect work
Monologue work
Audition preparation & techniques
Master classes