Zipper up and button-down! It's time to get your sweater ready to celebrate WQED's Cardigan Day on Saturday, November 13.
As has been the yearly Cardigan Day tradition, WQED asks its "neighbors" to support kindness by donning their cardigans and using social media to post photos with the hashtag #CardiganDay.
WQED expects great response on social media as in previous years with cardigan-wearing babies, pets and entire classrooms of students.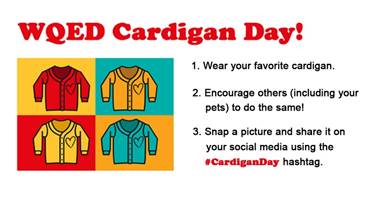 To celebrate Cardigan Day, WQED will host six "kindness" selfie stations. No matter what the thermometer says, it will be sweater weather! When you post your image to social media, our virtual Cardigan Party can spread across neighborhoods throughout the region.
The Oaklander Hotel in Oakland will be giving away a prize package to a lucky #cardiganday selfie social media poster. The winner will be randomly selected from social media posts. The prize is The Oaklander Oakland Staycation, which includes a one-night stay for two people; deluxe accommodations; breakfast for two at Spirits & Tales; and free parking. Good through 6/30/22.
Each Cardigan Day location will include a chance to win a gift basket. Everyone who visits a location can register for a raffle to win a basket with Cardigan Day goodies like WQED DVDs and other items, including a Fred Rogers sweater-changing mug, a Neighborhood of Make-Believe trolley, and a pair of tickets to an upcoming Pittsburgh Symphony Orchestra concert. Additionally, Bethel Bakery will provide cookies at each location (while supplies last).
We hope to see you at one of our six locations on Saturday, November 13 from 10 am to 2 pm.
Wilkinsburg Public Library, 605 Ross Avenue, Wilkinsburg
The Sandwich Shop & Deli, 121 Brownsville Avenue, Brownsville
Bethel Bakery, 2500 Washington Road, Canonsburg
de Fer Coffee & Tea, 2002 Smallman Street, Strip District
Riverstone Books – McCandless Crossing
Bakery Square, 6425 Penn Avenue, Larimer
This year's Cardigan Day is made possible through the "kindness" of WQED sponsors: Agora Cyber Charter School, Dunkin', PAVIRTUAL Charter School, The Oaklander Hotel, and Thiel College.
About WQED
WQED was an experiment in educational community-supported television that was the forerunner to PBS. Today, WQED is a multimedia powerhouse that is as much a part of Pittsburgh as the three rivers. WQED is WQED-TV (PBS); WQED World; WQED Create; WQED Showcase; WQED PBS KIDS Channel; Classical WQED-FM 89.3/Pittsburgh; Classical WQEJ-FM 89.7/Johnstown; the Pittsburgh Concert Channel at WQED-HD2 (89.3-2FM) and online at www.wqed.org/fm; local and national television and radio productions; WQED Interactive (www.wqed.org) and WQED Education (www.wqed.org/edu).