I don't know about you, but I'm a sucker for charcuterie boards and themed foods. Fall foods that look fun are way more likely to be devoured in my house than foods that look like, well, food. Looking for a little inspiration this Halloween? Check out our Flavors of Fall guide for simple to make yet fun to eat ideas. Want to tackle a healthy but fun charcuterie board for kids? We'll show you how to throw together a simple fruit snack charcuterie board for your little goblins that will have you feeling like a pro in no time. Set this out before they venture out trick-or-treating or use this for your next Halloween gathering.
---
While you can replicate this spooktacular charcuterie board with any of your favorite fruits, here's what was used in this ensemble:
4 bananas
4 clementine oranges
2 apples
1 strawberry
Celery cut and sliced into 3 thin sticks
Peanut butter (can substitute Nutella or nut free alternative)
Sunflower seeds (can substitute granola or rice puffs)
Edible eyes (we found ours at Walmart)
Candy corn or pumpkins for color
Granola bar (or substitute cookie or cracker)
How to create your kids Halloween charcuterie board:
Peel your oranges and make 3 Orange "Pumpkins" by popping in a sliver of a celery stalk in the center of 3 clementines. Halve the 4th one and lay it on its flat side, giving it a spooky face made out of chocolate.
Halve your apple on both sides of the core to get 2 large slices. From there, carve out the center of each slice, using a v-cut.
Fill middle of apple with peanut butter, then add sunflower seeds or granola pieces as teeth. Use a slice of strawberry for a tongue and add eyes.
Peel bananas and lay them on their side. Cut them in half using a chevron pattern, so you have 2 ghosts from one banana. Use chocolate sauce to make eyes and mouth (or use your edible eyes).
Slice up a granola bar into bite size pieces or substitute with a cookie or crackers.
Arrange on a platter, scatter some candies for color and serve!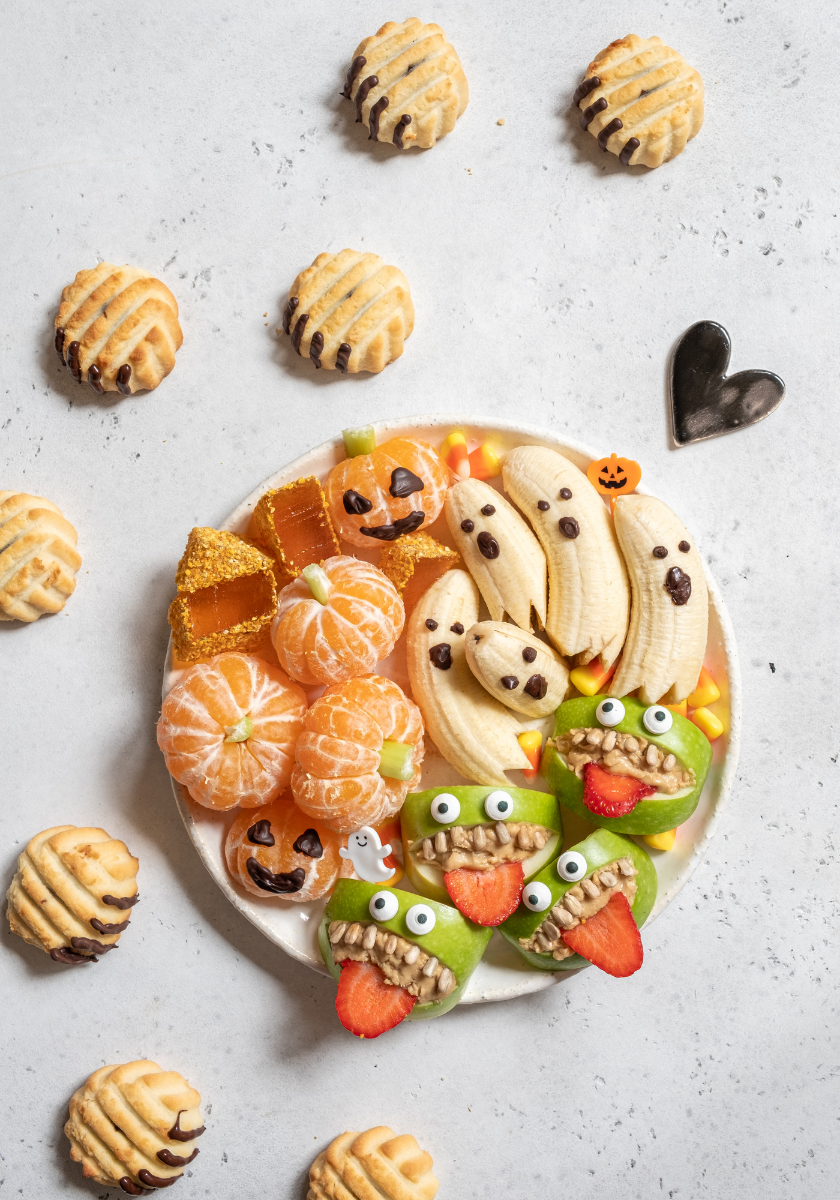 Check out our Flavors of Fall Guide for more spooktacular kid friendly recipes!