Because we are in the middle of a pandemic and birthday parties with friends are still uncertain, this mama had to be a little more creative than usual when planning our soon-to-be 5-year-old son's superhero themed birthday party. Poor little guy had his birthday cancelled last year due to COVID-19, so we wanted to do something special for him in our home with family but also something fun for him at preschool, so he could still celebrate with his friends. Birthday's come but once a year and themed parties are kinda my jam; so planning these "extra" events for my kiddos is what I live for lol. I'm excited to share all the details on how we planned our Superhero birthday party!
My first party score was from the Dollar Tree in McMurray (I tell you this because the Robinson location didn't have ANY of these items when I went back for more). I was able to buy superhero themed plates, napkins, table cloths, a photo backdrop and a selfie frame for a fraction of what they would cost elsewhere. They also had primary colored bowls to match, hulk green silverware, and candles. If you're planning a superhero themed birthday party, save yourself an extra trip and add 2-3 black table cloths, a plastic round cookie platter and a 6" glass star bowl to your list (you'll see why here shortly).
My son requested a cookie cake for his birthday party at school and I (last minute) ordered them from Giant Eagle. They do offer a Marvel themed cake topper that they could have put on the cake but 1) they would have had to lay white icing under it and 2) it was an additional $11 each! For $9.99, I think they did a fabulous job on these (with a 12-hour turn around)!
For the preschool party, I sent in the Dollar Tree plates, napkins, and selfie frame along with disposable superhero masks that I snagged on clearance at Aldi for all of his classmates. For the snack, I sent in cubes of cheese with mini pretzel rods for the kids to make "Thor's Hammers." It was the cutest thing seeing all of his friends from school sing him happy birthday in their matching masks and then taking photos in the selfie frame. His teachers did a really great job making him feel like a real superhero on his special day!
| | | |
| --- | --- | --- |
| | | |
We knew from the gate we were going with a Superhero theme so when I came across the bam, zaaap, pow themed tepee rental from Pitch a Fête and showed my daughter, she quickly decided she was having a Superhero Sleepover party with her brother. Pitch a Fête specializes in boutique party rentals designed to create the most magical experience, without stressing mom out with little details. Simply go to their site, pick one of 11 Tipi Rental Themes and schedule your party date. Macaroni Kid Subscribers can use the code MACARONIKID10 for a 10% discount on all items! Pitch a Fête will lovingly pack your crate to include everything you need for a Tipi party that will be delivered directly to your doorstep:
Tipi frame and fabric
Inflatable sleeping pad with foot pump (smartest invention ever)
Custom themed sleeping pad cover
Bespoke themed pillow
18x18 classic comic superhero throw pillow
Bed tray table
Battery operated lantern
1 themed garland for every 2 tipis
Themed Pretend play items
free round trip shipping of Fête Crate packages
laundering of all linens and display items
Our Pitch a Fête crates were dropped off by a local delivery service two days before the party and were packaged cupcake style. My original plan was to set them up to surprise my little man, but the kids were too eager to open the boxes and insisted on helping (which made it way more fun anyway). You can watch how simple it was on our Instagram Highlight HERE. The tipi's came out first, then the air mattresses that easily inflated with an integral foot pump, then the accessories. With each box we opened there were new squeals of delight, but the most excitement came when we opened the boxes containing miniature tipi's for their dolls. I tell you this because if you're questioning the extra investment, do it! They're only little once and it was so precious watching them play pretend with their dolls and action figures in the tipi's. Within minutes, we had a Superhero tipi wonderland!
| | | |
| --- | --- | --- |
| | | |
| | | |
| --- | --- | --- |
| | | |
Pitch a Fête had every detail covered with the high quality colorful linens, bespoke pillows, led lanterns, superhero cosplay items and bed trays.
Our last box from Pitch a Fête was a bam zaaap pow Ready.Fete.Go.Party Bundle that contained party supplies for 8 guests: Plates for food and cake, napkins, cups, flatware, superhero masks, temporary tattoos and garland. Ready.Fete.Go. party Bundles come in a variety of themes and are also offered seasonally for adding that extra special touch to any holiday you are celebrating. With this box, this mama could have easily been done and called this a party!
| | | |
| --- | --- | --- |
| | | |
But this mama is just a little bit extra.... and had an idea for a little something else. Having already booked the date, I sent a photo of the tipis in the living room to the Lemonade Balloon Company and let them work their magic. Sisters Christen and Elissa who are no strangers to party planning, are owners of the former Playtown Square in Mt. Lebanon and are just a delight to work with! When Playtown Square had to close due to COVID-19, these savvy mama's took those lemons they were handed and pivoted, bringing happiness to others in the form of balloons. The Lemonade Balloon Company was then born! Christen and Elissa arrived prepared at our house with inflated balloons already designed with our color scheme and quickly attached them to the tipis. You can watch them rock out their setup HERE. The main focal of the balloons went over my sons' tipi, accentuated with a large, foil, Happy Birthday balloon. Smaller balloons made a chain that ran alongside the garland, connecting the tipis with balloons. The finishing touch of their masterpiece was the small cluster of balloons on top of both doll tipi's.
| | | |
| --- | --- | --- |
| | | |
| | | |
| --- | --- | --- |
| | | |
To complete the theme of the room, I created a mock city scape in the background by covering our toy bin with a black table cloth from Dollar Tree. I used black wrapping paper on his gifts and added yellow cut out rectangles to make them look like buildings and placed them on top of the toy bin for dimension. The green photo backdrop on the left came from the Dollar Tree as well and fit perfectly in the doorway, framing that room in. The bam, zaaap, pow garland from Pitch a Fête was the perfect touch making this room party ready!
Anytime I am decorating, I try to incorporate with toys or themed items we already have on hand (like the Hulk hands on the stair posts and hanging superhero capes from the railings). The sweets table was accented with cosplay masks and my sons' superhero action figures.
Speaking of sweets, please look at the amazing sugar cookies baked and decorated by Jess COOKies. Located in Bethel Park, Jess bakes decorative and custom cookies for any occasion. When I connected with her and told her the theme of the party, Jess said it was her first superhero request but that she was up for the challenge. With Thor's hammer, she nailed it.
Sorry, I couldn't help myself. But seriously, Jess made a beautiful variety of delicious cookies to perfectly match our theme including one's with my sons name, the number "5," Captain America's shield, Thor's hammer and the comic words. The angry Hulk fist cookies were my sons favorite!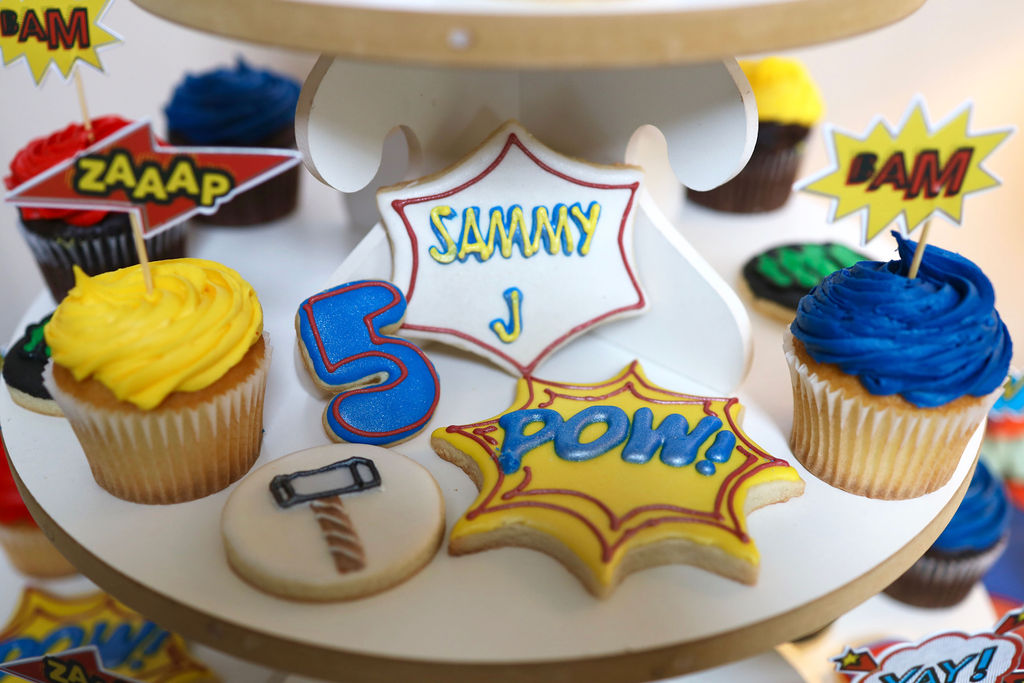 The two-tiered cake and cupcakes came from Sam's Club. The cake was their whipped icing wtih the Marvel Comics transfer and the cupcakes with buttercream icing are $15 for a 30 count. The toppers from Pitch a Fête were just what the cupcakes needed!
| | | |
| --- | --- | --- |
| | | |
In addition to our capes and masks, our superhero party attire consisted of custom shorts for the birthday boy and a matching dress for his sister made by a local mama who owns Colorful Creations - handmade children's clothing and accessories. I'm not exaggerating when I tell you my son (who we STRUGGLE with when it comes to clothing) INSISTED on wearing those shorts the minute he saw them.... and then wore them for three days straight... I immediately jumped on her Etsy page and ordered him two more pairs in different prints. Jessica was great to work with, helped me get the specific fabrics my son wanted and shipped quickly (all for less than what I'd pay for shorts at a local retailer)! Mom and dad were lucky enough to get Superhero shirts on clearance before the Disney Store at the Village closed.
| | | |
| --- | --- | --- |
| | | |
Party day went off with a bang! We served all of my son's favorite foods for brunch and gave the one's we could fun names - Super Sammy Sandwiches, Hulk Jello, Thor's Hammers. My mom made this beautiful fruit tray shaped like Captain America's shield and another fruit platter of an unnammed superhero made out of pineapples. Remember that star glass bowl I told you to get from the Dollar Tree? We used a glue dot to secure it to the center of the round tray and filled it with fruit dip (equal parts of fluff and cream cheese). Blueberries, raspberries, marshmallows and strawberries were used to create the rings.
Tables were dressed to impress thanks to Pitch a Fête and our guests wore their superhero masks during breakfast.
Kayla Renee Photography was there to take photos so that my husband and I could enjoy the party without the stress of having to capture those little moments. It was the first time we had seen most of my husband's family due to COVID and the first time in over a year we had that many people in our house, and it was really nice to be able to just relax and enjoy visiting.
Macaroni Kid and this very happy 5-year-old would like to acknowledge and thank the local sponsors that made this Superhero party possible. Please check out their pages and consider their services when planning your next party.
Pitch a Fete
www.pitchafete.com
FACEBOOK | INSTAGRAM
Lemonade Balloon Co.
lemonadeballoonco.com
FACEBOOK | INSTAGRAM
Jess COOKies
jesscookies.com
INSTAGRAM
Colorful Creations
etsy.com/shop/ColorCreationsbyJess
FACEBOOK | INSTAGRAM
Kayla Renee Photography
INSTAGRAM
We love planning parties and sharing our resources with others! If you're planning an upcoming birthday party and are looking for local vendors and inspiration, check back soon for our 2021 Birthday Party Guide or email emilyp@macaronikid.com if you need help finding something in particular.
A Note to Our Readers - Your local Macaroni Kid website and newsletter is a FREE resource because of the businesses who sponsor our site. Our local businesses are what helps keep our community unique and thriving.
Readers often ask how they can support me as a small business owner. This is one thing you can do to help... we greatly appreciate your support in reviewing our sponsors articles, advertisements, looking to our business directory to learn more about our beloved local businesses. Click on the ads and links - and if you decide to patronize these businesses, please be sure to let them know you heard about them from Macaroni Kid!
Thank you for reading and supporting our local businesses and Macaroni Kid!