The numbers are finally decreasing and PA is starting to slowly open back up. What is a mother to do?! Well, this mother who has been on pandemic lockdown with her family for close to 12 straight months jumped at the opportunity for a romantic getaway with her husband. The Omni Bedford Springs hosted us for a 3 day, 2 night getaway last week, and I'm still trying to ride out that pink cloud!
Nothing quite compares to the spectacular view that your eyes will feast on as you are driving down Sweet Root Road and arrive at The Omni Bedford Springs. I'm just a small town girl from the suburbs of Pittsburgh whose breath was taken away when we pulled up. I'm not exaggerating, it caught me so off guard that I made my husband back up just so I could take in the magnificent building from one complete end to the other and have the IG highlight to prove it!
From the moment you arrive at the Valet where your bags are whisked away by the bellhop to walking through the halls (in your luxury spa robe if you presume) among the antiques and Victorian style furniture, one is assured to feel like royalty.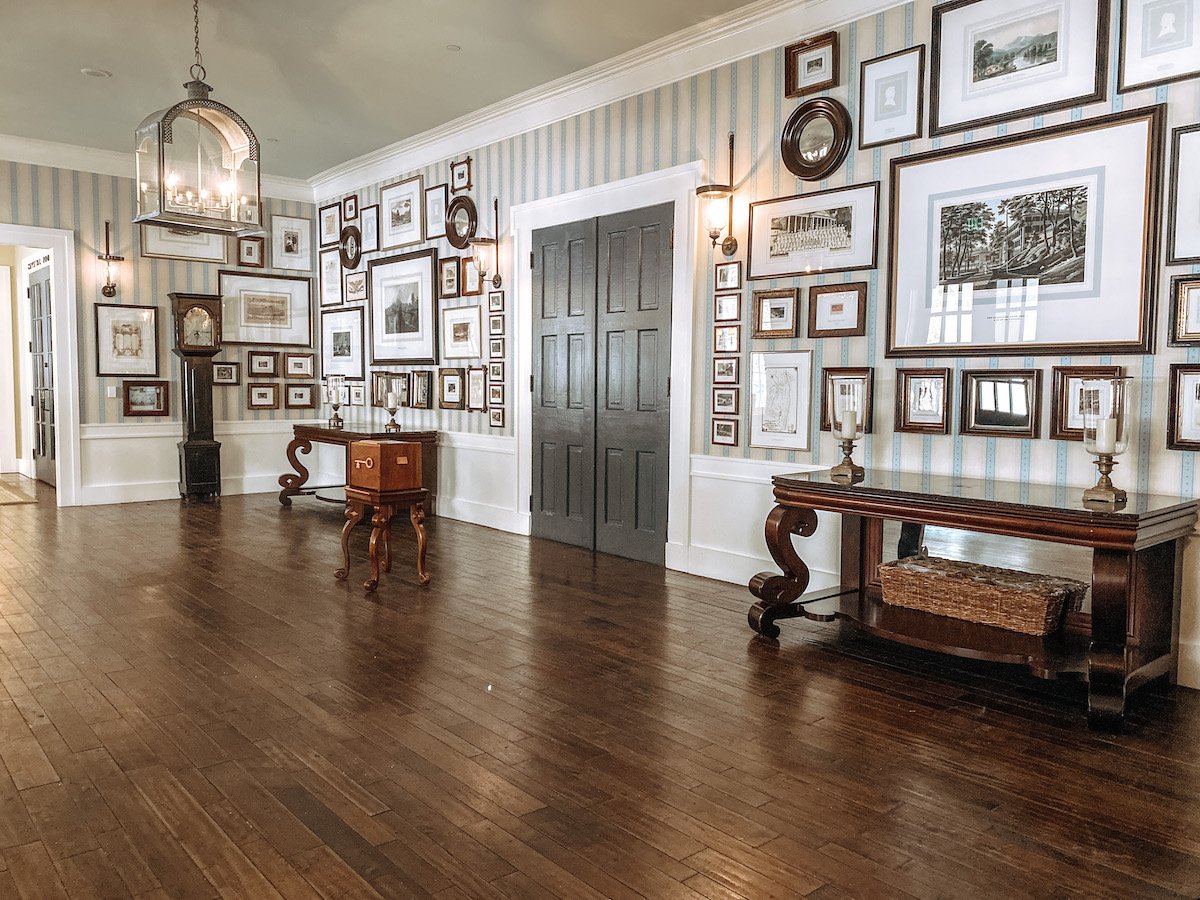 Each room uniquely different boasts tons of character, some retaining the original furniture of the resort, while providing you with all updated and modern day amenities. Thank goodness we were encouraged to explore the grounds as we discovered a hidden backgammon board in the library since we forgot ours! The antique game table is faced with a checkerboard and even the staff was surprised when we pulled it up and out to unfold the beautiful wooden game. Due to COVID, they are not leaving game pieces out, so you will have to ask for your sanitized set from the gift shop to play with during your stay.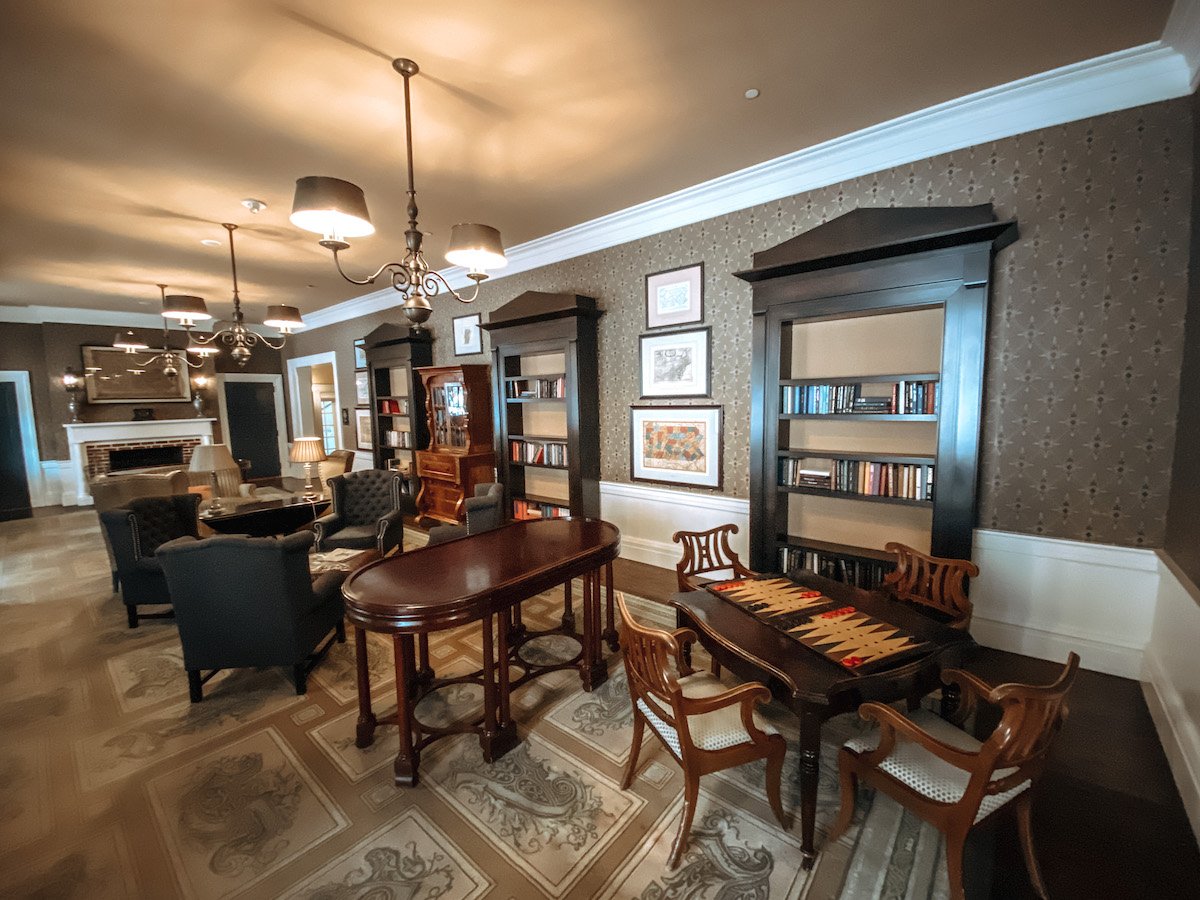 When you visit The Omni Bedford Springs, the hotel is yours for the exploring. You can cozy up next to one of the many fires in the main lobby or roam the stairways and the halls reading decades worth of history and admiring photographs shared of the resort over the years. There is just so much beauty to take in!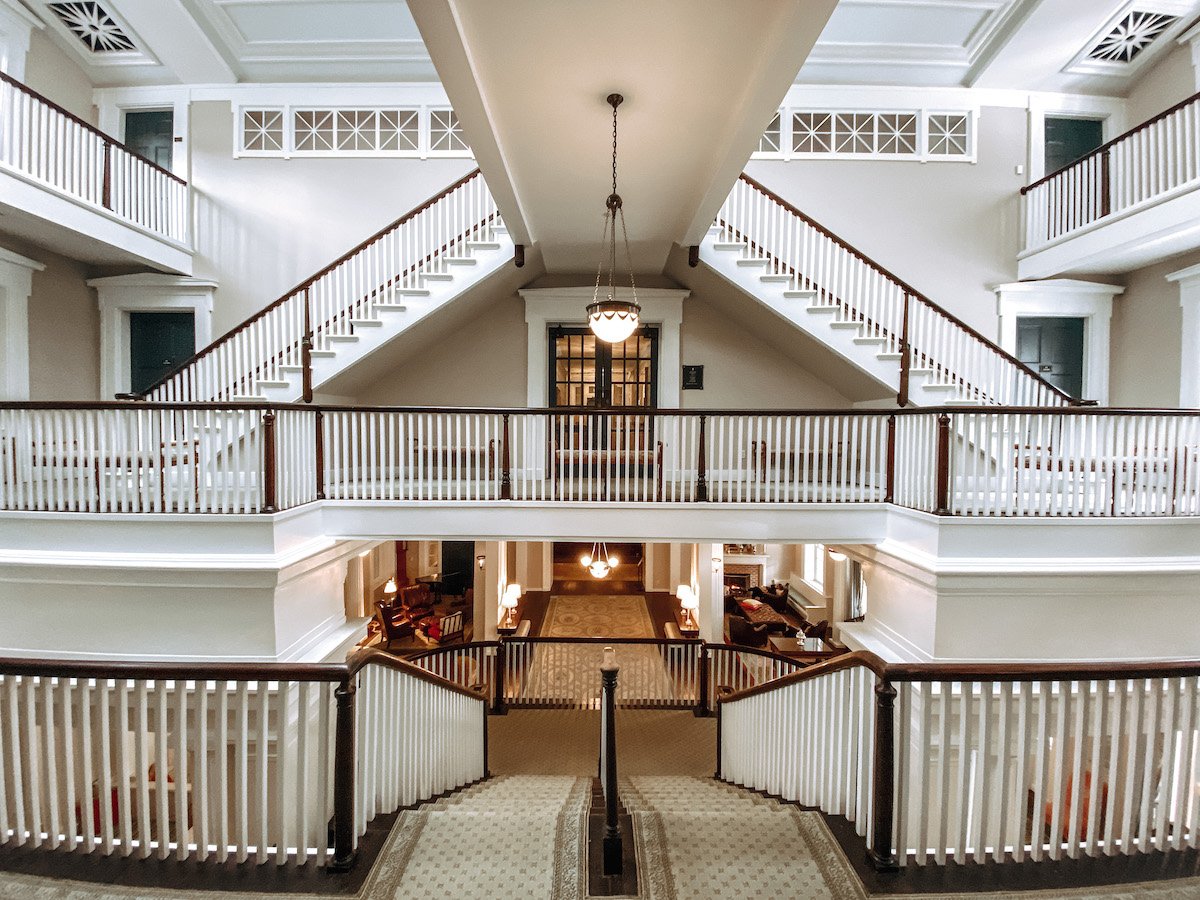 Moving towards the spa area, this hallway parallels the indoor Bedford pool which is through the glass doors on the left. My favorite snack spot, Che Sara Sara, is also at the end of this hallway.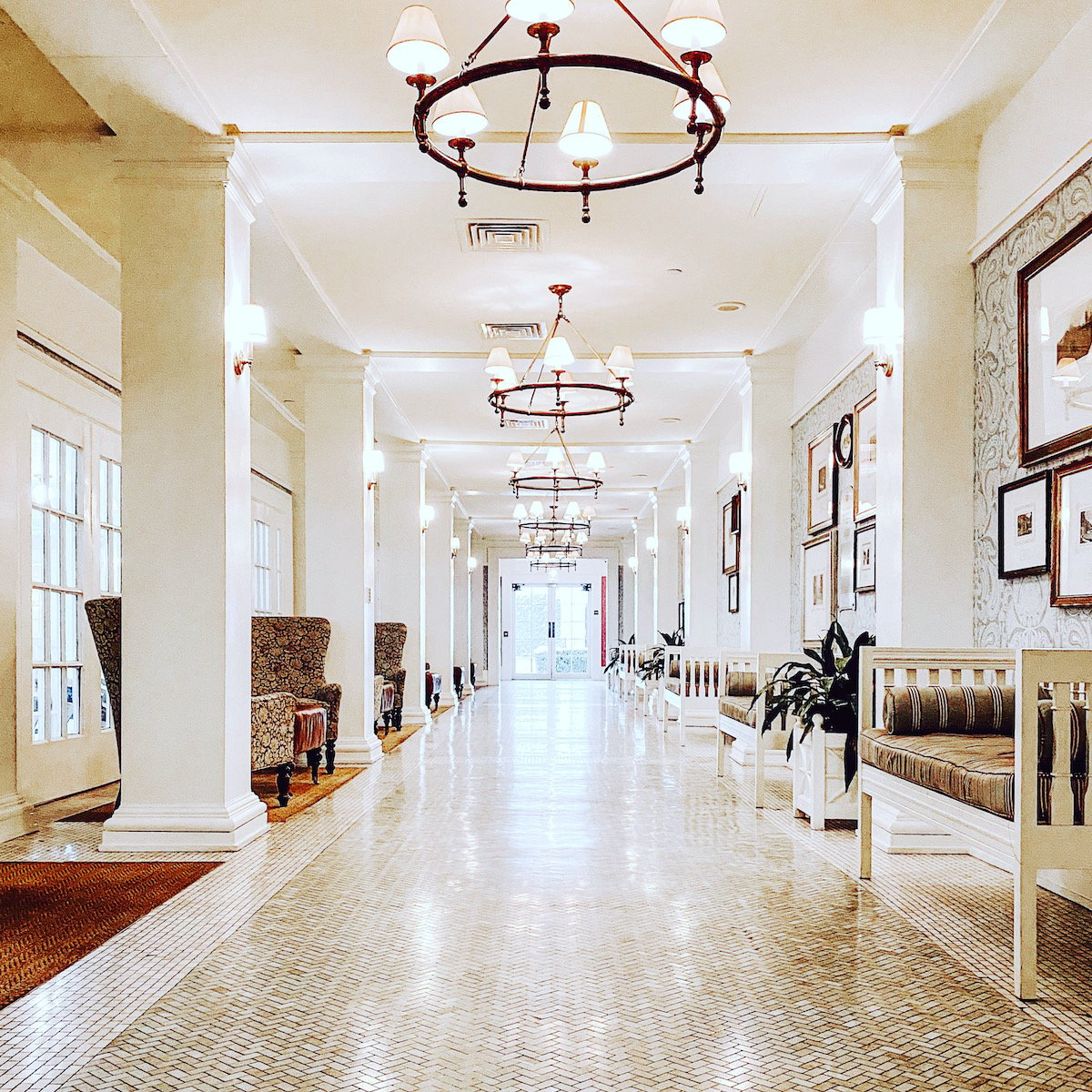 Our Resort View King Suite had a large living space, flat screen tv, en suite mini fridge and private balcony. To up the romance factor, we had the most delicious chocolate covered strawberries, cheese board and sparking beverage waiting for us.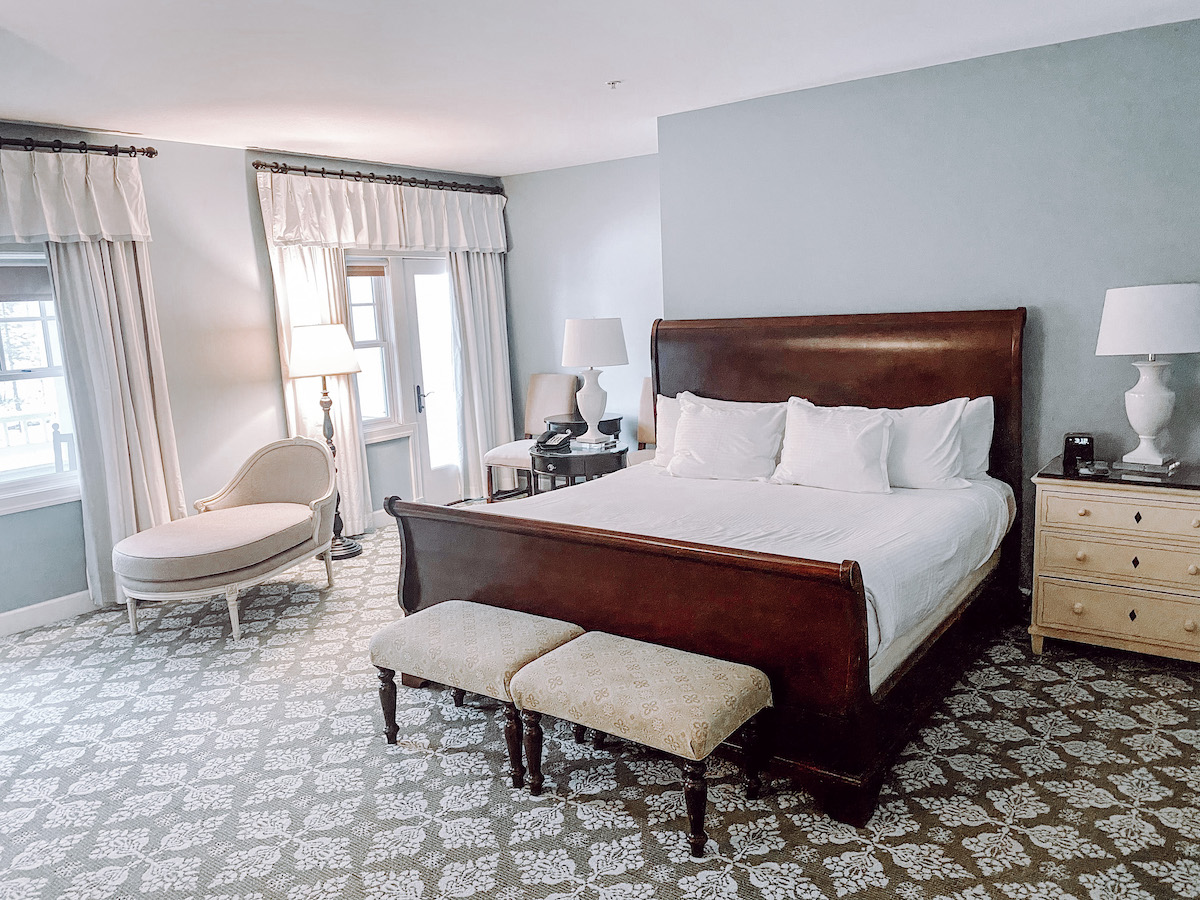 After we unpacked, my husband and I quickly staked our claim for our office areas as we still had some work to do when we arrived. I'm pretty sure I didn't move from that spot anytime we were in our room unless I was sitting on the balcony!
| | | |
| --- | --- | --- |
| | | |
One of the luxuries of an adult trip means 1) I'm probably not going to have to eat chicken fingers today and 2) we can eat our meals when we are actually hungry, not just when it's convenient for the kids. Due to pandemic circumstances, The Omni Bedford Springs had to make some modifications to their restaurant structure. 1796 which is their specialty steakhouse, has been temporarily closed so that the all-purpose restaurant Frontier Tavern could operate 7 days a week, extending their seating to the floor plan of 1796. All is not lost though as some specialty items found on 1796's menu can still be found when dining in the Crystal Room. But the most glamorous luxury of no kids?! 3) Being able to order room service and eating breakfast in bed without having to worry about someone making a mess!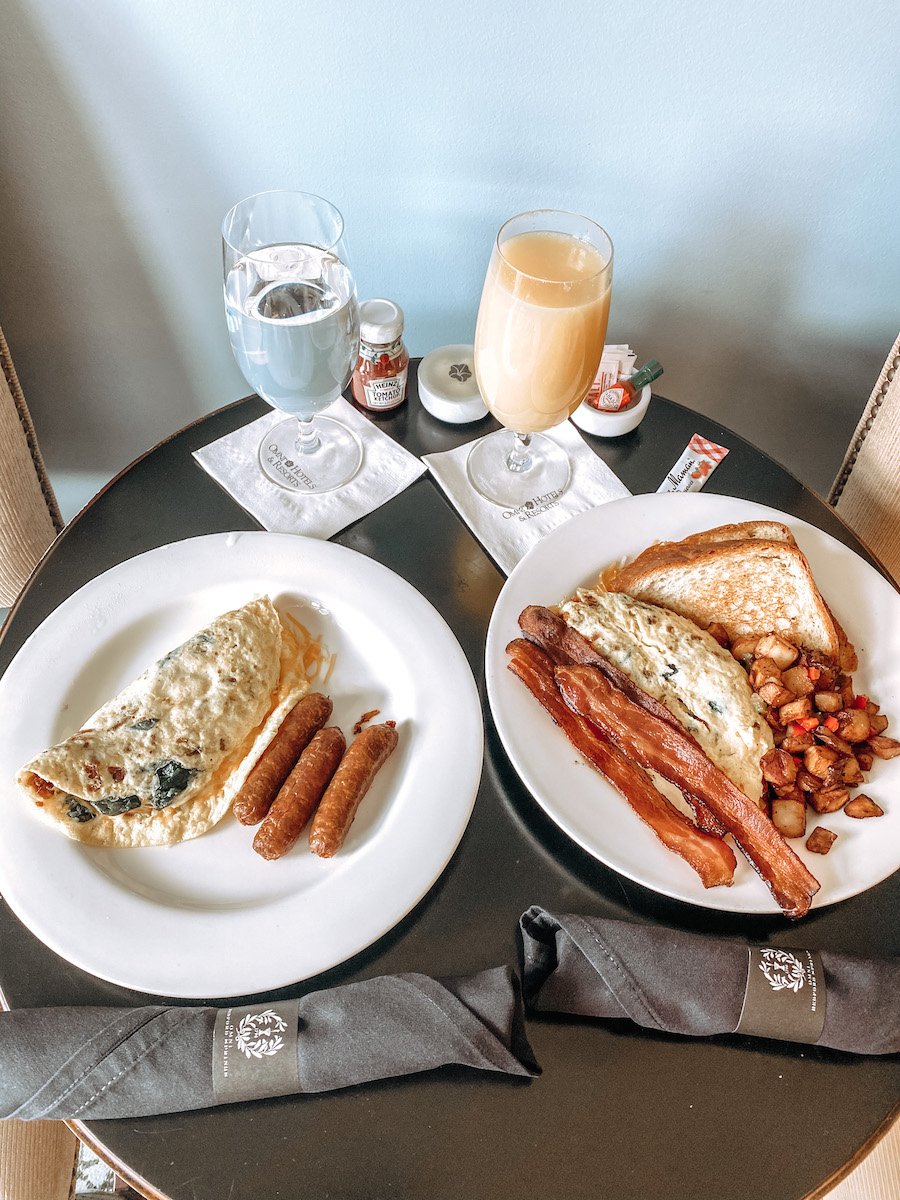 If I had to give you a few must have food recommendations in no particular order, I'd insist you try the S'mores Hot Chocolate and the Yogurt Parfait with layers of yogurt, granola, and fresh berries from Che Sara Sara and the wings and Warm Donut Holes from Frontier Tavern. Oh, and if you can figure out how to order those chocolate covered strawberries we had upon arrival, you need those too. All the delicious food aside, one of my favorite rituals at The Omni Bedford Springs was my evening hot tea. Ordered from room service, they delivered a carafe of hot water and my favorite Tea Forte flavors. The carafe stayed hot for hours, and I was able to sit in my lounge chair while reading and enjoying my hot tea.
Would it even be a romantic getaway if you didn't book his and her's spa services? The Omni Bedford Springs is well known for their incredible spa and the Bedford Bath's. Each spa services will come with the Bedford Bath Ritual that can be done before or after your spa service. I highly recommend doing it after your service and arriving to your appointment early to unwind in the Spa Lounge. Masks are required everywhere in the spa area except for when using the Bedford Bath's.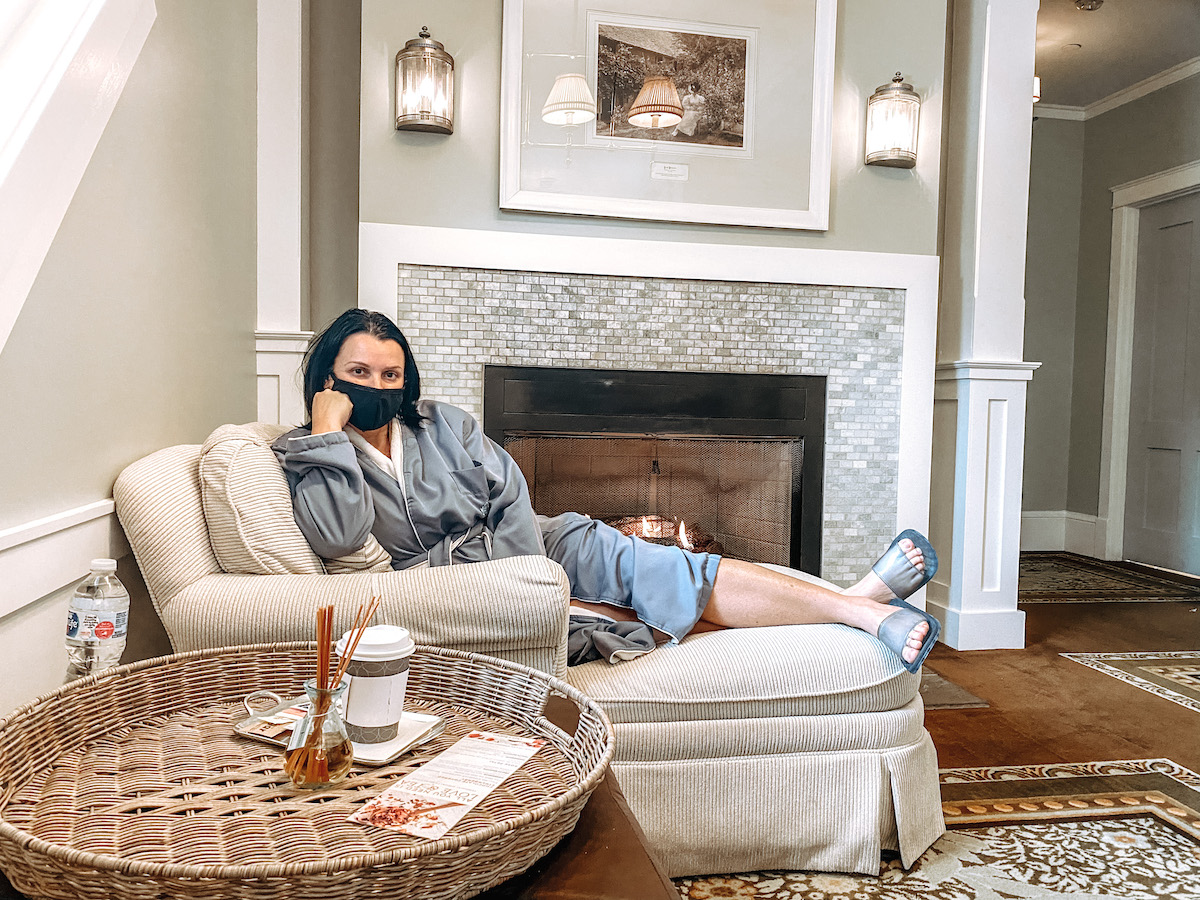 Honestly the entire spa experience was so impressive that I'm going to have to write a whole other article on the spa alone, but I will answer you this as inquiring minds wanted to know - What exactly is the Bedford Bath's at Eternal Spa?
Looks pretty awesome right? Let's just say we were both feeling so relaxed on our spa day that we almost skipped out on our time slot to go to the indoor pool. I am so happy that we didn't because who misses out on an opportunity to go for a late night solo swim here ⤵️?!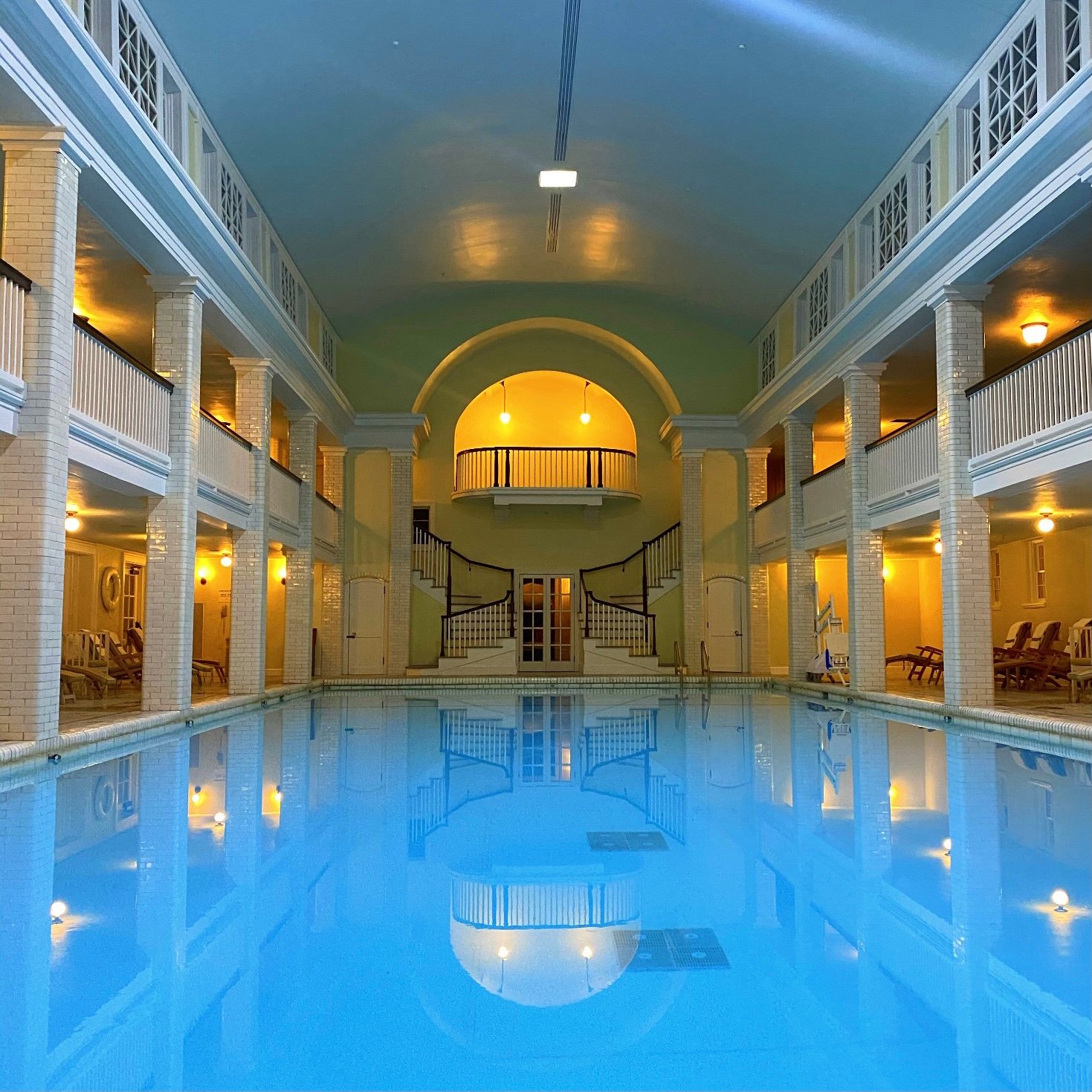 Like all good things, our trip had to come to an end, but it won't be our last time in Bedford. Only a short drive from Pittsburgh, The Omni Bedford Springs is one of the few drivable spas of its kind and the memories made there will last a lifetime.
Our tips to make the most out of your romantic getaway:
Splurge for the room with the porch. Even though it was cold outside, it wasn't cold on our porch, and it was the perfect place for morning coffee together or a quiet meditation.
Request for sparkling water or champagne to be delivered to your room (and the chocolate covered strawberries). It's the little things that make all the difference from a weekend in a hotel to a romantic weekend away.
Unplug if you can. We love backgammon and have never played on an antique board before. There are checkers, chess, books, history on the walls, views for days, and so much to take in if you're not buried in a phone.
Snuggle by a fire, inside or outside.
Order room service and eat breakfast in bed :)
Wear your robe. Everywhere.
Book his and hers spa services and take advantage of the Bedford Baths!!!
Reserve a late night pool time.
Admire the diamond etched glass where soon-to-be-brides would determine the authenticity of their diamonds before saying "I do."
Explore the grounds together, inside and out, taking in the wonder of who has roamed those halls before you.
Make memories
For more details on our trip, check out our Instagram stories and reels.
***Our stay was hosted by The Omni Bedford Springs, but all opinions are authentic and based on our personal experiences***
---
Would you like a Macaroni Kid Ambassador to review your establishment?
Please send inquiries to emilyp@macaronikid.com