Good morning! Happy Thanksgiving! We are wishing you all a very blessed day, no matter where you are and who you are spending it with. This year marks a lot of "firsts" for all of and I know that today might look a lot different for some of you than originally planned. Us too. Because of COVID, we planned to have a smaller than usual gathering with my in laws as this is the first time in 7 years my mother-in-law is in PA for Thanksgiving. Because of the most recent surge, my sister-in-law and her husband won't be coming in from Cleveland which is a bummer. Let's just hope things get better in time for the holidays.
Here's your morning giggle - So how about- every year my dad has the kids stuff a turkey, so he can take photos of them enjoying the experience- only to unstuff the turkey when they all leave? 😂😂😂Last night, he brought over a 22lb turkey just so the kids could stuff it and then lugged it back to his house to unstuff, so he can deep-fry it tomorrow (see photo above)! Oh, what we will do for a memory!
There are so many changes on the site as we transition into shopping then holiday season. I am working onThe Ultimate Guide to the Holidays in Pittsburghupdating it daily with Holiday Lights, Santa Sightings, virtual and in person events. Please, please, please, while I do my best to stay on top of it all, PLEASE verify with these in person events that they are still happening as we are experiencing new guidelines and suggestions. Speaking of - my kids are now virtual until mid January. Please send Starbucks and donuts.
Anyone notice the BIG change?! How about the site facelift?! We want to know how you feel about it! You know you can always reply to your weekly newsletter and it goes right to my inbox? Feel free to share your thoughts about the new site, or anything with me!
Ok, so, here's the two things that I think I am MOST excited about. I have been working hard for months now on The Ultimate "Shop Local" in the South Hills Holiday Gift Guide. PLEASE check it out before you go shopping this weekend. Not only are there awesome businesses in there and amazing MacKid Subscriber exclusive deals, but there are 2 chances to WIN $150 Target gift cards just for shopping local or sharing the guide! That sounds like a win-win to me! BTW- expect an email from MacKid on Friday to encourage you to shop local, share some of our sponsors Black Friday specials with you and remind you to upload your receipts!!!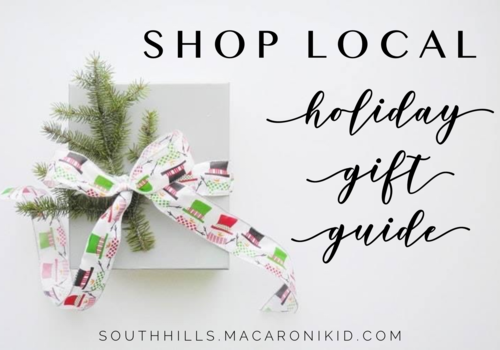 Did someone say winning? Hellllllllllllo Macaroni Kid South Hills of Pittsburgh 12 Days of Giveaways! I can't even begin to tell you how excited and grateful I am to be a part of giving back to the community like this. Our generous sponsors have donated over $2,100 worth of gifts for Macaroni Kid Subscribers! That's crazy! So go check them out, sign up for the ones you'd like to win and be sure to share this with your friends, your other half, your parents, you get the idea. Share the love! We'll be hyping these up over social media but don't miss your chance to enter as the drawings start December 1st!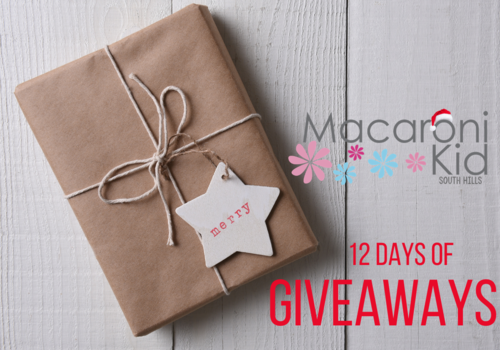 Happy Thanksgiving my macaronians! See you in December!