Watching Holiday Lights in Pittsburgh while listening to Christmas carols is absolutely one of our favorite family holiday traditions. Are you looking for some of the best kid-friendly locations in and around the South Hills of Pittsburgh to see holiday lights and find the magic illumination in the dark? With Western PA having so many great holiday lights displays for the whole family, especially right here in Pittsburgh, you can plan a new trip every weekend through the New Year! Below you will find some of our favorite holiday lights for kids and families in Pittsburgh happening all season long:
| | | |
| --- | --- | --- |
| | | Bookmark or pin this page, so you can plan your evenings of Holiday Light sightings with the rest of your joyful festivities this holiday season and for years to come! |
If you're looking for some FREE family fun, check out our noteworthy Griswold Lights Displays to find some of the best neighborhood light displays in the 'Burgh!

| | | |
| --- | --- | --- |
| | Kennywood Holiday Lights 2021 | |
Holiday Lights at Kennywood
Where: West Mifflin, PA
When: Weekends November 19th - January 1st, 2023, December 26, 27, 28, 29, Closed December 25th
5pm-10pm
Cost: $39.99 (save $10-$20 by purchasing your tickets online)
Make your season sparkle at Kennywood during Holiday Lights this winter. Bring your family and celebrate the return of this Pittsburgh classic. Take a stroll among more than one million twinkling lights, and marvel at the tallest Christmas tree in the state. Savor the flavors of new festive foods and holiday drinks. Plus, there are rides for the kids, a petting zoo, and special entertainment for all. For an additional fee you can enjoy a special dinner with Santa and Mrs. Claus!
More Info: kennywood.com
---
ELFburgh Christmas - CANCELLED FOR 2022

Where: Bethel Park, PA
Cost: $25/car
ELFburgh Christmas will become the most unique holiday experience coming to Pittsburgh this season! Produced by the award-winning scenic team behind Hundred Acres Manor Haunted Attraction, ELFburgh Christmas will be a family-friendly event for all ages and will leave you amazed and inspired.
The Hundred Acres Manor teams' mission is to put a smile on your face while giving back to the Pittsburgh Community. Spreading cheer and providing children the opportunity to meet and greet Santa preparing for the holiday in his workshop while in the comfort and safety of your car.
You will get to drive-thru the Christmas display, see Santa's elves singing your favorite Christmas songs and meet Santa.
More info: pittsburghchristmas.com

Christmas Light - Up
Where: 600 Clinton Park Drive | Clinton, PA
When: November 19th, 2022 -January 1st, 2023
Time: 5-10 PM Daily
Cost: $10/car donation - CASH ONLY
Founded in 1993, the Christmas Light Up Celebration in Clinton, PA is the best kept holiday secret in Pittsburgh. Drive through and enjoy a one-mile experience of light displays in a wooded setting. *Due to safety concerns, traffic congestion, and various other reasons Christmas Light - Up will no longer host a walk-thru; doing their best to safely and efficiently bring the Christmas spirit to all who visit.
---
Dazzling Lights Pittsburgh at Pittsburgh Botanic Garden
Where: 799 Pinkerton Run Rd | Oakdale, PA 15071
When: November 27, 2022 - January 1, 2023
Time: 5:30-9pm
Cost: Tickets are $25 for adults and $22 for children (plus fees). Children 2 and under enter free.
New to Pittsburgh for 2022 is Dazzling Lights at Pittsburgh Botanic Garden. Dazzling Nights is a night time, outdoor walking experience through 65 acres of natural environment. Start the night with a picture perfect photo opportunity in front of a unique, 30' tall towering holiday tree. Experience interactive lights on the ground light up when you walk on them as you journey through a forest of light and fog, as if walking through the aurora borealis. Feel the rush of excitement as you immerse yourself in a 65' long tunnel of wondrous light while being surrounded by holiday tunes. Tickets must be purchased for a specific time and date, and are not available at the door. Make sure you arrive early to allow time for the shuttle from the parking lot.
More Info: WEBSITE
---
Moon Lights Holiday Drive-Thru
Where: Moon Park
When: Daily
Time: Sunday - Wednesday dusk til 7:30pm. Thursday - Saturday dusk til 10pm
Cost: FREE
Enjoy a FREE holiday drive-thru in Moon Park with over 25 light displays made possible by generous sponsors and volunteers.
More Info: WEBSITE

Glowland Pittsburgh
Where: Oakland
When: November18th - December 18th
Time: Impulse in Schenley Plaza is free and open to the public daily from 10am-10pm
Cost: FREE
GLOWLAND is a month-long winter festival beginning on Friday, November 18th, featuring art installations, live music events and illuminations throughout Oakland. Discover the playable and interactive art installation, Impulse, in Schenley Plaza, then head into Oakland's business districts to explore music, entertainment, vendors, games, and more! Special events will include an illuminated kick-off party, Small Business Saturday celerbation, and a family-friendly closing weekend. Additionally, buildings, public spaces, and unexpected corners of Oakland will be brought to life by variations of light-based art.
View GLOWLAND's full event program here!
---
| | | |
| --- | --- | --- |
| | "Hugging" the tree at The Rink at PPG Place | |
The Rink at PPG Place
Where: Downtown Pittsburgh, PA
When: November 18th - January 8th, 2023 *special holiday hours
Cost: $10-12 and $5 skate rental
Surrounded by the spectacular crown jewel of the PPG Place glass skyscraper and featuring a stunning 65-foot musical, illuminated Holiday tree decorated with over 100,000 lights and ornaments, The Rink at PPG Place offers an incomparable atmosphere and provides a fun-filled Downtown Winter Playground. In 2015, The Rink at PPG Place was expanded by 25% increasing its overall surface size to 67% larger than the Rockefeller Center ice rink and two-thirds the size of an NHL rink. Viewing is always free of charge but if you'd like to enjoy the ice at the Rink, you can pre-order your tickets here.
---
Walk the 'Burgh Holiday Lights Tour
Where: 1049 Penn Ave, Downtown Pittsburgh
When: Available December 2nd until New Years Day, almost daily at 5pm
Cost: Adults $28, Children $16 (age 6-13)
Get into the holiday spirit and enjoy an evening in Downtown Pittsburgh, learning about the history of the city, discovering beautiful squares and pieces of architecture, while getting to see all the festive holiday lights and decorations. Experience the world's largest pickle ornament, a unique gingerbread house display, a replica of the crèche from Vatican City, and much more during your two-hour guided walk around the 'Burgh! The grand finale of the tour will be a big Christmas tree surrounded by an ice rink, and last but not least: The central holiday market in town!
More Info: WEBSITE
---
Zoo Lights Drive -Thru
Where: Pittsburgh, PA
When: select nights from November 25th - December 30th 2022
Cost: $40/vehicle for members $50/vehicle non-members
Twinkle, shimmer, and shine your way through the season at the much anticipated return of the Zoo Lights Drive-Thru! Get cozy in your car as you drive through thousands of environmentally friendly LED lights that transform the park into an unforgettable winter wonderland. Enjoy over 80 animal lights with 30 new displays, classic characters, and carols along the way.
More info: WEBSITE | FACEBOOK | INSTAGRAM
---
Phipps Winter Flower Show: Holiday Magic! Winter Flower Show and Light Garden
Where: Pittsburgh, PA
When: November 18th, 2022 - January 8th, 2023
Cost: $19.95/adult $11.95/child
Phipps' Winter Flower Show: Home for the Holidays brings whimsical, elegant and festive displays back to our glowing glasshouse. With a canopy of twinkling lights, fragrant decorated trees and, of course, thousands of poinsettias in a wide variety of hues and patterns, this show is sure to create special holiday memories with friends and family.
More info: WEBSITE

North Park Holiday Laser Show
Where: Allison Park, PA
When: December 9-22, 2022 (Daily show, multiple sessions each day)
Cost: Residents $20/vehicle Non-residents $25/vehicle
Celebrate the holidays with a one-of-a-kind drive-in laser show at North Park! You and your family will be dazzled by a beautiful 45-mintue show synchronized with holiday music- all from the safety of your own vehicle. Space is limited, and tickets will sell out fast. Don't miss this unique and entertaining experience!

More info: WEBSITE | FACEBOOK
---
Holiday Lights Mini Golf at Fun Fore All
Where: Cranberry Township, PA
When: November 25th - January 1st, 2023 (closed Holiday's)
Cost: $15/course or $20/both courses
Fun Fore All's Holiday Lights Mini Golf was named one of the best holiday light displays in 2017, 2018 and 2019! Turning two award-winning miniature golf courses into fully playable walk-through holiday light extravaganzas. Families can experience a beautiful, interactive, holiday experience unlike any other in the area.
More info: WEBSITE | FACEBOOK | INSTAGRAM
---
Shadrack's Christmas Wonderland
Where: Butler, PA
When: November 19th, 2022 - January 1st, 2023
Time: 6-10pm daily, including holidays and in the rain
Cost: $25/car
Prepare to be dazzled by a new Christmas light spectacle the likes of which you've never seen in a new location! A visit to one of the shows is all you need to truly let go of every day stresses and let your spirit fly as your senses are tickled with hundreds of thousands of twinkling lights dancing harmoniously with some fantastic Christmas tunes. Purchase an express lane pass for an additional charge to bypass up to a mile of the que line!
Simply drive up, tune in your car's radio, and let the Christmas spirit take you away!
---
Galleria at Pittsburgh Mills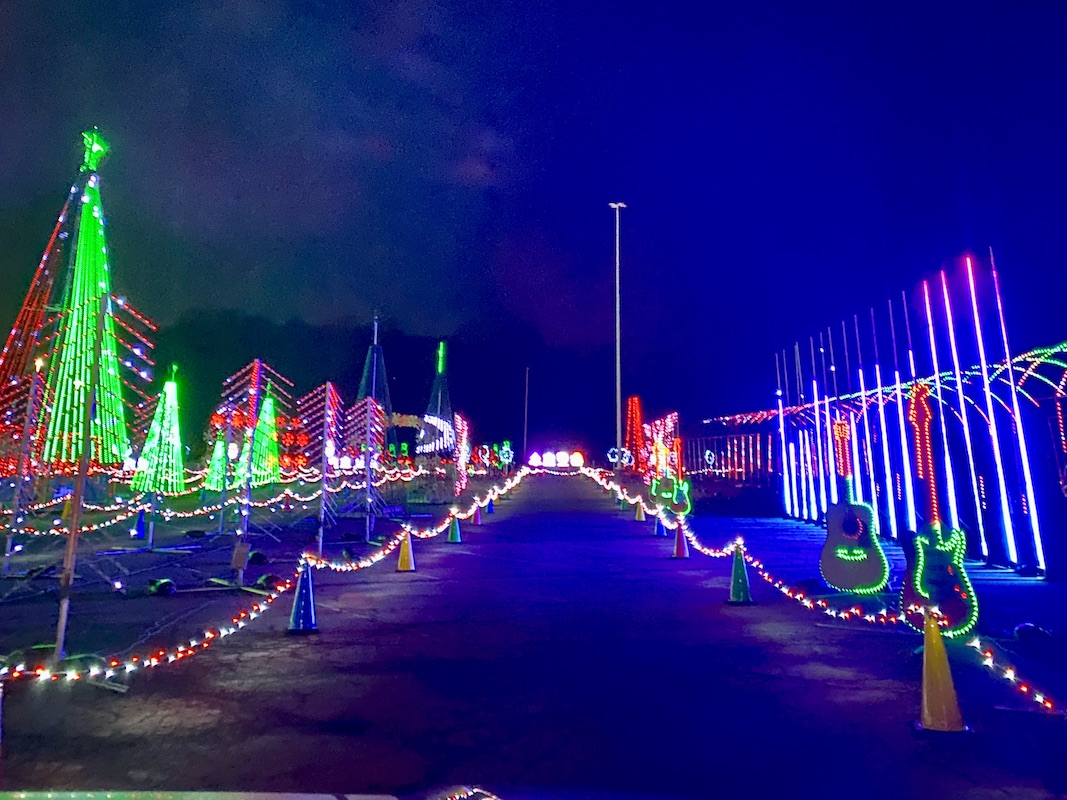 Make a date with your family for an awe-inspiring drive-through holiday adventure at Dasher's Lightshow at Galleria at Pittsburgh Mills! Prepare to be amazed as hundreds of thousands of twinkling lights and festive displays dance and prance, perfectly synchronized to the holiday tunes on your car radio.
With larger-than-life drive-thru tunnels, disco walls and 40-foot glittering trees, Dasher's Lightshow is a dazzling, ever-changing holiday lights experience for all ages!
See how much my family loved it HERE.

Overly's Country Christmas
Where: Greensburg, PA
When: Thursday's through Sunday's November 17th, 2022 - December 30th, 2022 Also Open December 19, 20, 21, 22, 26, 27, 28, & 29
Cost:
Gates are open from 5:30pm to 10:00pm on Fridays & Saturdays and 5:30pm – 9:00pm on Thursdays & Sundays, weather permitting. For your best family holiday experience at Overly's Country Christmas® arrive at least a half hour before the scheduled closing time and allow for any traffic backups.
More info: WEBSITE | FACEBOOK | INSTAGRAM

Big Butler Fairgrounds Holiday Spectacular
Where:1127 New Castle Road | Prospect, PA
When: November 17th - January 1st
Cost: Tickets starting at $30 *check your clipper magazine for a $5 off coupon
---
Keystone Safari Walk-Thru Holiday Lights
Where: Grove City, PA
When: Starting November 18th
Cost: $8/person
Join Keystone Safari Friday through Sunday from 12-9pm for festive lights, Santa, reindeer and more. Take in all the lights as you journey throughout the park. keystonesafari.com
Keystone Safari Drive Thru Nativity Scene
$8/person
Closed until 2022 holidays.
More Info: WEBSITE
---
Festival of Lights Sounds of the Season at Oglebay
Where: Wheeling, WV
When: Nightly November 10th - January 8th from dusk to midnight
Cost: $30 suggested donation per car
Beginning in 1985, the Festival of Lights has grown into one of the nation's largest holiday light shows, attracting more than one million visitors each year. Identified as one of the top light displays in the United States by countless travel companies and national publications, the Festival of Lights features three hundred acres of twinkling lights over a six-mile drive. The dazzling display includes 90 lighted attractions boasting more than one million energy-efficient LED lights. Enjoy reduced wait times when you visit Monday through Wednesday, and beat the rush when you arrive early between 5 – 6 pm. Bring on some more smiles when you book your tour through the comfort of Oglebay trolleys.
Don't forget to tag #pghmackid while you're snapping your selfies in front of the best lights in the 'Burgh for a chance to be featured on our site or social media!
❄️ Looking for more winter festivities? Check out our daily events calendar and subscribe to any or all of our FREE newsletters to get the latest updates of family fun in the Pittsburgh area!

Are we missing any Holiday lights in the Pittsburgh area? Are you interested in sponsoring this guide or having a featured listing? If so, email Emily at emilyp@macaronikid.com with the subject HOLIDAY LIGHTS as we will be updating throughout the holiday season!
Pin this guide ⤵️