Updated November 22nd, 2020

OMG. I've been dreaming about this for weeks. Seriously. The beautifully made- hollow, chocolate ball; filled with hot cocoa and marshmallows, sitting in the bottom of my favorite mug just waiting….
Here comes the hot, steamy milk rushing over the soon-to-be melting sphere.

Wait for it. Wait for it...
BOOM!!!
Goodness explosion. Everywhere.
If you have no idea what I am talking about, you are either going to love me or hate me for telling you about this latest trend.
Hot Chocolate Bombs ⤵️
Oh yes. They're a thing.
I've been watching videos all week on how to make them, thinking it would be a fun recipe/project with the kids but with so many local small businesses making them, I totally caved today and bought some! Is your mouth watering yet? Here are some places in the South Hills that you can find Hot Cocoa Bombs for yourself! Some of these store wrap them beautifully, making them the perfect gift for anyone on your list this holiday season!
Cookie Wishes, LLC
McMurray

WEBSITE | FACEBOOK | INSTAGRAM

Cookie Wishes is a local business that specializes in custom cut cookies. Follow along on Facebook and Instagram to see the latest in beautiful and fun cookies!

Cookie Wishes is offering Hot Cocoa Bombs in 6 amazing flavors, all individually boxed and bowed. To order, fill out this form in its entirety and make note of your pickup date and time! Please note this is for local pick-up in McMurray only. Please contact cookiewishes19@gmail.com for any other availability.



My Favorite Sweet Shoppe
Bridgeville
WEBSITE | FACEBOOK
My Favorite Sweet Shoppe is a local, female owned business in Pittsburgh's South Hills. They specialize in custom creations for you and your family and friends. If you have an idea, they can bring it to life in the form of your favorite sweet! Call ahead (412) 564-5416 to order.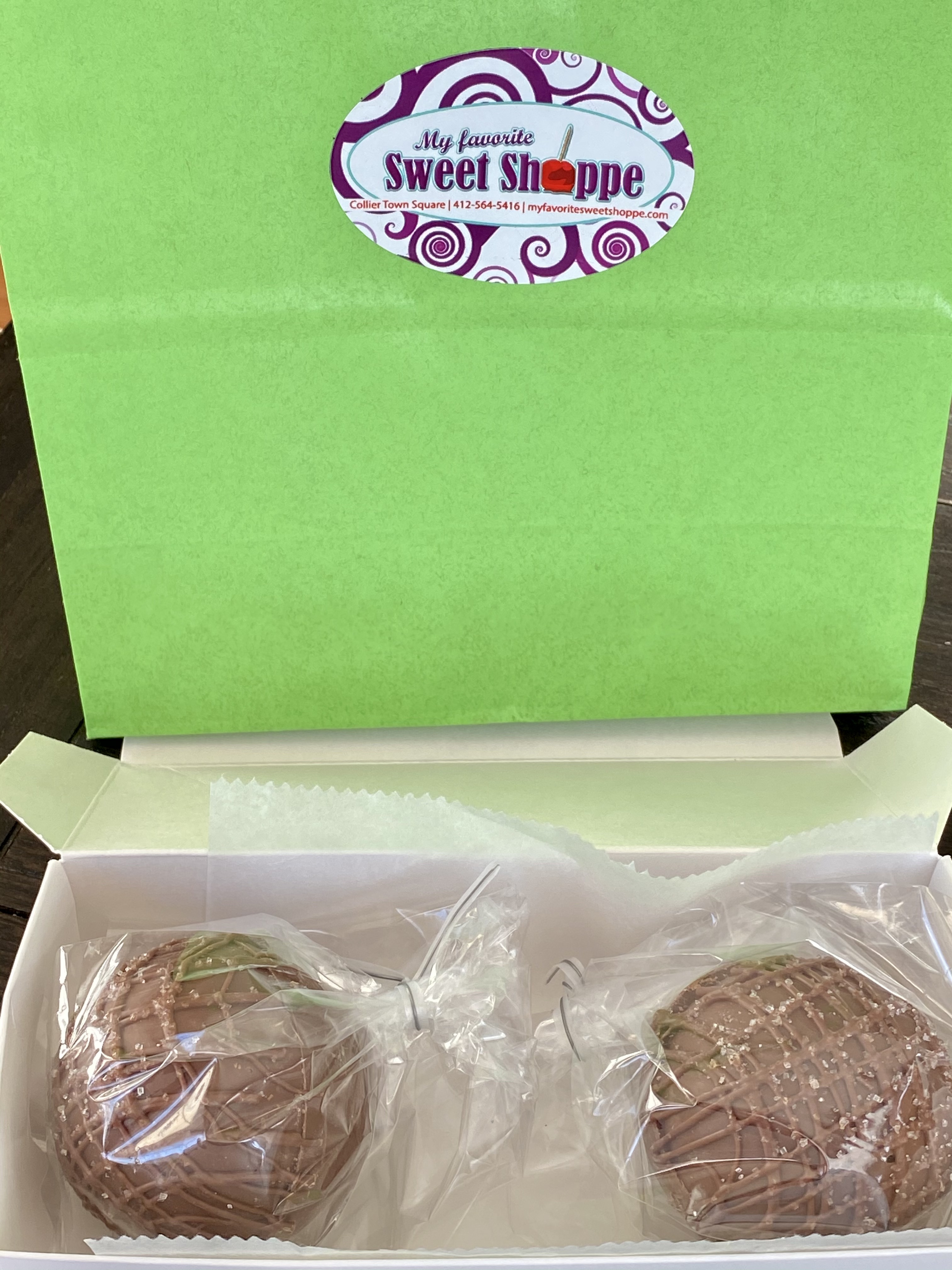 Our first Hot Chocolate Bomb experience! ⤵️



TC Candy Homemade Chocolate Candy
Mt. Oliver
WEBSITE

TC Candy is a family owned store in Mt. Oliver who offers a wide assortment of items with focus towards Boxed Chocolates, Corporate Gifting and Fundraising all made with high quality, homemade chocolate candy.


Gourmet Hot Chocolate Bombs! Available in-store only for $6.50 each. What makes TC Candy Hot chocolate Bombs Gourmet?!? They are made from their high-quality delicious chocolate, not melting wafers!!!!


Batter & Dough Bakery
Bridgeville
FACEBOOK
Batter & Dough Bakery is a small family-run bakery that can (and will) create just about anything your heart desires! They are currency booked for the remained of 2020 for custom orders, but they are still accepting orders for what they have daily as well as releasing new and delicious items each week. We were able to walk right in today and get our goodies right off the shelf. Call ahead (412) 319-7445 to order or check them out on Facebook.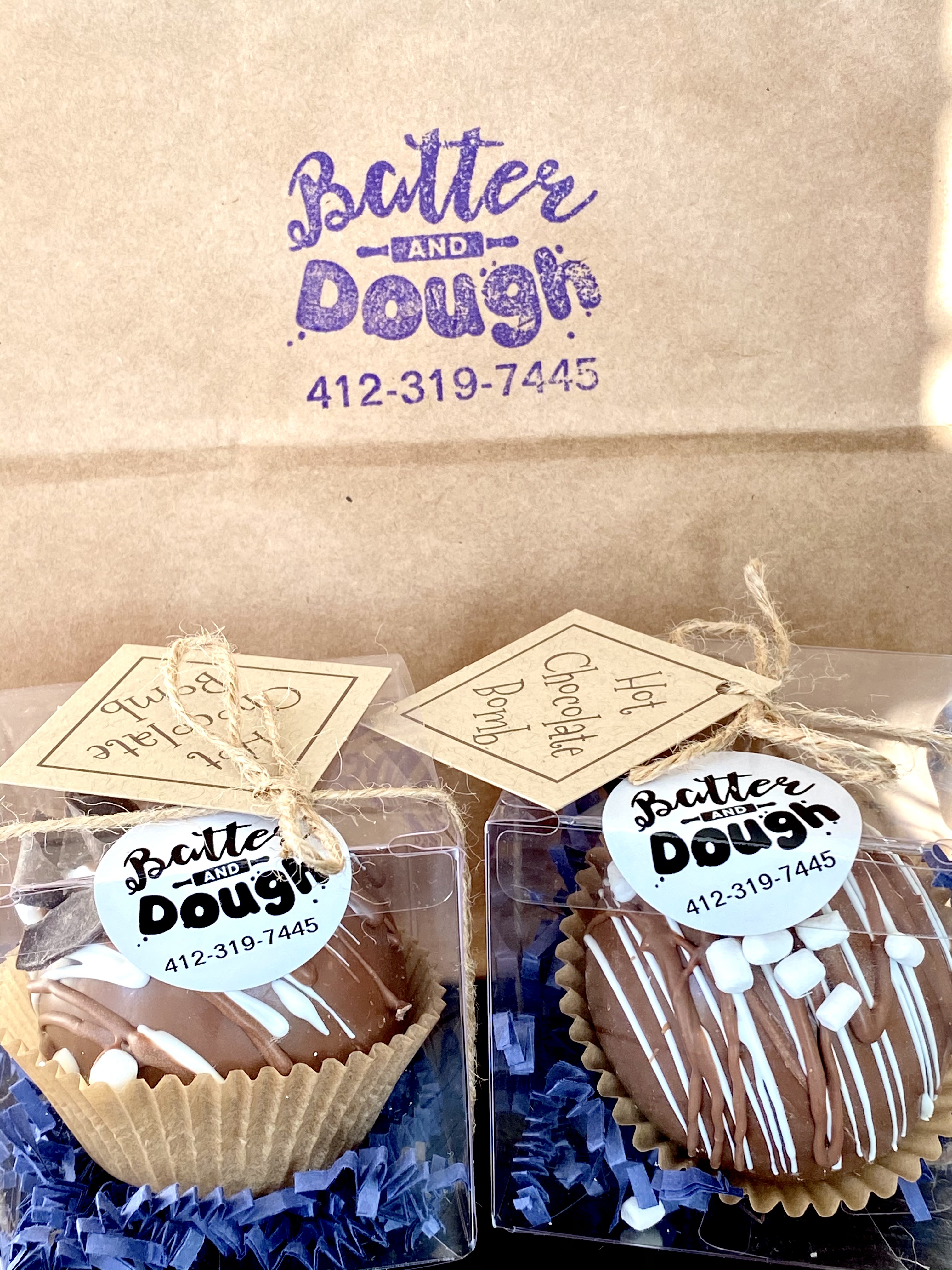 Menu includes:
Salted Caramel
Boston Cream
PB&J
Chocolate Covered Cherry
Brown Sugar Cinnamon
Snowball
Mudslide
Chocolate Peanut Butter
Vanilla Vanilla
Vanilla Chocolate
Chocolate Chocolate
Chocolate Vanilla

Batter & Dough told Macaroni Kid that they plan on adding a Mocha Latte Bomb by 11/10 and a surprise flavor by 11/14! YUM!


The Pop Cakery
Greenfield
FACEBOOK | INSTAGRAM | thepopcakerypgh@yahoo.com
The Pop Cakery bakes custom cookies, cakes, cupcakes, chocolate treats, including cake pops, chocolate dipped pretzels, beautiful chocolate bouquets and more! The shop is Kosher and dairy-free and orders available for shipping or pickup only. The Pop Cakery Hot Chocolate Bombs are priced between $5.50-$6 and can be wrapped in cellophane or packaged in a gift box with a bow.

Hot Chocolate Bomb Menu includes:
Dark sweet chocolate
White chocolate Cookies and cream
Funfetti/birthday
Peppermint


Dessert with Val
Jefferson Hills
FACEBOOK | dessertwithval@yahoo.com
Dessert with Val is back and ready to satisfy your sweet tooth! Specializing in Macaroons, Homemade Cookies, Cakes and Hot Chocolate Bombs. Originally from FTW, TX and new to the Pittsburgh area!

The hot cocoa bombs are sold in sets of 5 and 10. The five pack is $15 and the ten pack is $30. You can do all one flavor or mix and match! Ordering is done over FB Messenger or email and the turn around time is about 2-3 days.



Snowy's Chocolates
Elizabeth
FACEBOOK | WEBSITE
Snowy's Chocolates offers a full selection of delicious hand dipped chocolates, tasty chocolate drenched fresh fruit, and serves Kerber's Dairy Homemade Ice Cream! Creative Party Trays, favors and gifts are also available. They are making new bombs every day, and they are $4/each or 3/$10. Call 724-217-2865 to order.

Choco-latta
Monongahela
FACEBOOK
Customized hot chocolate bombs made in almost any theme you can think of! Can you say gender reveal hot chocolate?! Check out her Facebook page to see all of her current offerings or request your own custom order!


Just Add Milk
Zelienople
FACEBOOK | ORDER HERE

Want to give someone special a unique and fun gift? These make an adorable fun treat for kids of all ages. Simply add the chocolate ball to an oversized mug, pour Hot milk and watch the chocolate melt away and the marshmallows explode! Stir and enjoy! Get your hands on a Grinch Hot Chocolate Bomb!!!



Sugar & Spice Ice Cream Parlor and Cake & Candy Supply
Baldwin
WEBPAGE | FACEBOOK | INSTAGRAM | (412) 882-7326
Are you the DIY type and want to craft up your own hot chocolate bomb? Head on out to Baldwin to visit Sugar & Spice Candy Supply to pick up your molds and all the chocolate you're going to need to make them! I suggest giving them a call first as they have sold out of these hot molds on more than one occasion!
Check out their website to see their DIY to Go Kits - Ice Cream Sundae, Themed Sugar Cookie and Themed Chocolate! Order one or all three!

Where is your favorite spot to get a Hot Cocoa Bomb? If we are missing a business on our list that carries them, please send the location or link to emilyp@macaronikid.com or put it into the Business Directory so we can get it added! We will add updates all season!
🌸 Macaroni Kid South Hills is a free weekly e-newsletter and website that highlights all the great things for kids and their families to do in the community. Plus, you can find fun activities, family-focused businesses, family tested product - place- and - business reviews, recipes, crafts, and SO much more!
Get a FREE event calendar for the South Hills of PA region full of festivals, fairs, activities, events and more! Sign up by clicking HERE!
Is your business, organization, group or church holding a family-friendly event that is not listed? Submit the event by CLICKING HERE! Thank you!